Université Paris Dauphine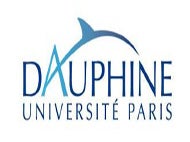 Université Paris-Dauphine Website
Virtual Tour of Dauphine
---
Program Overview
"Established in 1968 in the former headquarters of NATO,
Université Paris-Dauphine
is unique in the world of French universities for its entrepreneurial, project-based approach and commitment to the highest international academic standards. It aims to educate and train future generations of executives, entrepreneurs, leaders and scholars to be both experts in their respective domains but also socially responsible, cultured, open-minded members of the community. Paris-Dauphine strives to rapidly become THE French university of reference in our field internationally for students, faculty and researchers as well as for companies seeking executive training programs or looking to engage in applied research. Paris-Dauphine prides itself on its selectivity while favoring equal opportunity; maintaining academic and research excellence; promoting an open and international outlook and educating students to constantly broaden their point of view. Université Paris-Dauphine is constantly moving ahead." - Université Paris-Dauphine
Fall Semester: September - December

Spring Semester: January - early May
Apply
as early as possible. There are a limited number of rooms available in student residences.
On-Campus Room and Board: €250-420(depending on type)

Private housing: €450-1000 per month

Food: €240-340 per month

Books and Necessary Class Materials: €50 per month

Local Transportation: approximately €60 per month

Insurance: In France, every student under 28 years old is required to register for the student social security (insurance) system. The fee is approximately €198.

Note: € = Euro
English
Class Format: combination of lecture and group projects
Grading: 0 to 20 - less than 10 is failing
Class Size: small, big classrooms or lecture theater
Course Load: depending on the course itself. Two or three times the number of hours of the course, if not more.
Examinations: Continuous assessment, final exam. (50%, 50%)
Management, Economics, Applied Mathematics, Computer science
Clubs, associations, sports facilities.