Universite Paris Dauphine: Student Feedback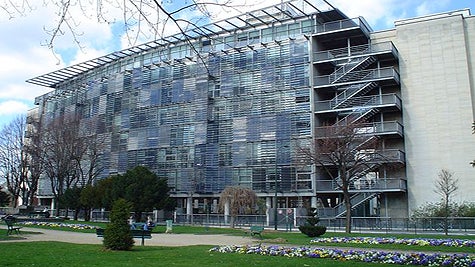 ---
Feedback from Students
"Banking is as simple as it is in NY. You can go to any local branch (Société Générale and BNP Paribas are the more popular ones) and open an account, then you can deposit checks and use your bank card as usual. It's definitely advisable to bring along some traveler's checks though, because traditional checks will carry fees. I'd recommend opening an account, unless you have a credit card that doesn't charge international transaction fees. Opening an account is also beneficial because your checking card then works in any country in the Eurozone, which makes traveling much simpler. You can almost always find someone in the banks that can speak English, so they'll help you open an account. In case of emergencies, you always also use your US debit card at any ATM and get cash out at the exchange rate, but of course there's going to be fees on both ends as well as the exchange rate spread."
Food: €100/week
Housing: €300/month - Depending on location
Books: €50/semester
Entertainment: €100/month
Local Transportation: €60/month
"I lived on campus. Housing is paid by the month, but it's very cheap (< €300 per month, decent condition dorm). Just like NYU, the dorms and the school are all part of the city. So don't be surprised if your dorm is far away from the actual school building. Subways take you everywhere though, so just like NYC distance isn't really that big of a deal. There are also bike rental/sharing stations, which are very easy to use and relatively cheap. I've never used it though, the subways run much more smoothly than NYC subways, and beside that I've just walked. It's Paris, come on!"
"Dauphine offers a mix of courses. As an exchange student, you can certainly expect that the coursework will be much easier compared to Stern standards."

Class Format: combination of lecture and group projects
Grading: 0 to 20 - less than 10 is failing
Class Size: small, big classrooms or lecture theater
Course Load: depending on the course itself. Two or three times the number of hours of the course, if not more.
Examinations: Continuous assessment, final exam. (50%, 50%)
"I'd definitely take International Business Ethics, since it can substitute for your PRL requirement back home. And the professor speaks very fluent English."
"The school offered a mentor program, which pairs you up with a French student who will show you around for your first couple of weeks and help you with adjusting. Apart from that, Dauphine also offers a French Conversations program where a group of foreign students are put together with a French tutor who will help you with the language. Between both of these, you'll get chances to meet new people, both French and international, go out with them, learn some French culture and language, etc. Apart from that, you and your friends will get more than enough chances to get out and have fun."
"Knowing a bit of French certainly helps, but isn't 100% necessary. If you don't know any French then I recommend taking one of the French Language courses at Dauphine. Certainly learn how to say hello, thank you, and ask for directions before you arrive. People are generally very helpful, so don't be afraid to ask."
"Paris itself has a seemingly inexhaustible number of attractions. Let alone the rest of France and other European countries. There are plenty of travel options. Many people love the cheap airlines. But there is also the EURail pass, which basically lets you go anywhere in the EU by train. It can be a cheaper and more convenient alternative to flying depending on your vacation schedule. Students will already know about the famous places around Europe, so I don't even need to mention Venice or the Louvre. But I'll highlight some amazing places that aren't as famous:

"Everyone knows about Versailles, but don't forge the nearby Château de Fontainebleau, the gardens of Giverny, Luxembourg City and Château Vianden, Hallstatt, Austria (Beautiful lakeside town. With delicious fish.) and Oktoberfest, Munich."
"You'll find plenty of nice restaurants everywhere. Restaurants in France always have a fixed price menu where they offer 3 courses for a fixed price. In addition, the streets are full of kebab and crêpe shops, which make for a very quick lunch. When you don't plan to eat out, grocery shopping is just as easy as in NYC, with Marché Franprix being their equivalent of Acme."