Daniel Rubin, MBA 2004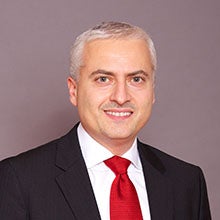 Daniel Rubin has 20 years of principal investing, investment banking, restructuring and operational experience, primarily in the real estate industry.
Currently, he is the co-founder and Managing Partner of YAD Capital, an alternative asset management firm which seeks to generate attractive risk-adjusted returns by opportunistically investing in financing products with average duration under one year and expected yields ranging from the mid-teens to upwards of 30%.

Dan lives in Manhattan with his wife and three sons.
If you could visit any place in the world, where would you choose to go, and why?
Somewhere I have never been – and would love to go – is Africa for a safari. As far as I can remember, I have always loved watching animal documentaries on television. It's a very humbling experience to watch animals in their natural habitats, and it helps to put things in perspective when we realize that we only occupy a small area on this planet.
What is your favorite childhood memory?
Family summer vacations. Almost every year, I would spend the month of July in Israel and 2 weeks in Italy in August. I was very lucky and built great memories.
Are you a dog or cat person?
Definitely dog: man's best friend!
What is your favorite memory from your time at Stern?
First day of school: the stress, the unknown of what lies ahead, the fear of being a student again, but also the excitement of making new friends, learning new things and putting the second piece of the puzzle on my professional career (the first piece being what I did before Stern).
Why do you choose to stay engaged with Stern as an alumnus?
As I read once, if you're lucky enough to do well, it's your responsibility to send the elevator back down. I am grateful for what Stern helped me accomplish and I wouldn't be where I am today without the time I spent on West 4th Street. Now, as an alumnus, I feel it's my duty to share what I've learned over the years and contribute as much as possible to the success of the school and its alumni body. That's why I chose to join the Alumni Council and that's why I decided to relaunch the Finance Committee. As a group, the Finance Committee represents the largest alumni group, those working in Finance (investment banking, hedge fund, wealth management, etc.). Bringing those alumni back to the school to give back their time, knowledge and money is the goal I am working towards. At the end of the day, aren't we all bleeding purple?
What quote most inspires you?
"The greatest risk in life is not taking one."
~ Anonymous
---