Upcoming Conferences
The Volatility Institute invites submissions for the Eighth Annual Volatility Institute Conference at New York University Stern School of Business on April 29th, 2016:

"Commodities and Emerging Market Risks"
Hosted by Robert F. Engle, Director of the Volatility Institute
April 29th, 2016
THEME
The collapse of commodity prices has dramatically affected many emerging market economies. We see falling exchange rates, equity indices and GDP. Patterns of asset correlations and volatilities reflect these risks. However, financial institutions appear to be adequately capitalized in many cases. What are the causes and consequences of these events? Slowing growth in China is a key driver but slow growth in other developed economies including Japan, Europe and the US has also affected both commodity prices and emerging economies. The collapse of the carry trade and exit of "hot money" may be part of the story. Both private and sovereign borrowing are important factors in other countries. This conference will focus on the global risks, both now and in the future, pertaining to commodity prices and emerging market economies.
PAPER SUBMISSIONS
Academics and practitioners in the field, including those who currently are not members of the Institute, are invited to submit papers. Each author may submit only one paper. Papers may be submitted electronically via e-mail to
mmatysik@stern.nyu.edu
with the subject line "V.I. Conference 2016 Submission" and must consist of a single PDF file. No other formats will be accepted. Submissions must be received by
January 8th, 2016
.
It is expected that decisions will be made by
early March, 2016
.
Papers will be selected via a review process of the Program Committee, which consists of -
VOLATILITY INSTITUTE SCIENTIFIC COMMITTEE
Viral Acharya,
Stern School of Business New York University
Robert Engle,
Stern School of Business New York University
Stephen Figlewski,
Stern School of Business New York University
Eric Ghysels,
University of North Carolina – Chapel Hill
David Greenberg,
Managing Director, BlackRock, Inc.
Peter Hooper,
Chief Economist, Deutsche Bank Securities
Eric Jondeau,
University of Lausanne HEC
Andrew Patton,
Stern School of Business New York University
Matt Richardson,
Stern School of Business New York University
SPONSORED BY
The Volatility Institute
,
BlackRock
,
Deutsche Bank
,
Nasdaq OMX
,
The Alfred P. Sloan Foundation
,
SoFiE
, and the AIG-NYU Collaborative Research Initiative
CONTACT
Matt Matysik,
Assistant Director of the Volatility Institute
mmatysik@stern.nyu.edu
Tel: 212-998-0826
PAST PROGRAM
For more information, including a program, full schedule, photos and video from the event, please visit our
past conference page
.
Click
here
for the Seventh Annual Volatility Institute Conference Program. You can view photos from the event
here
.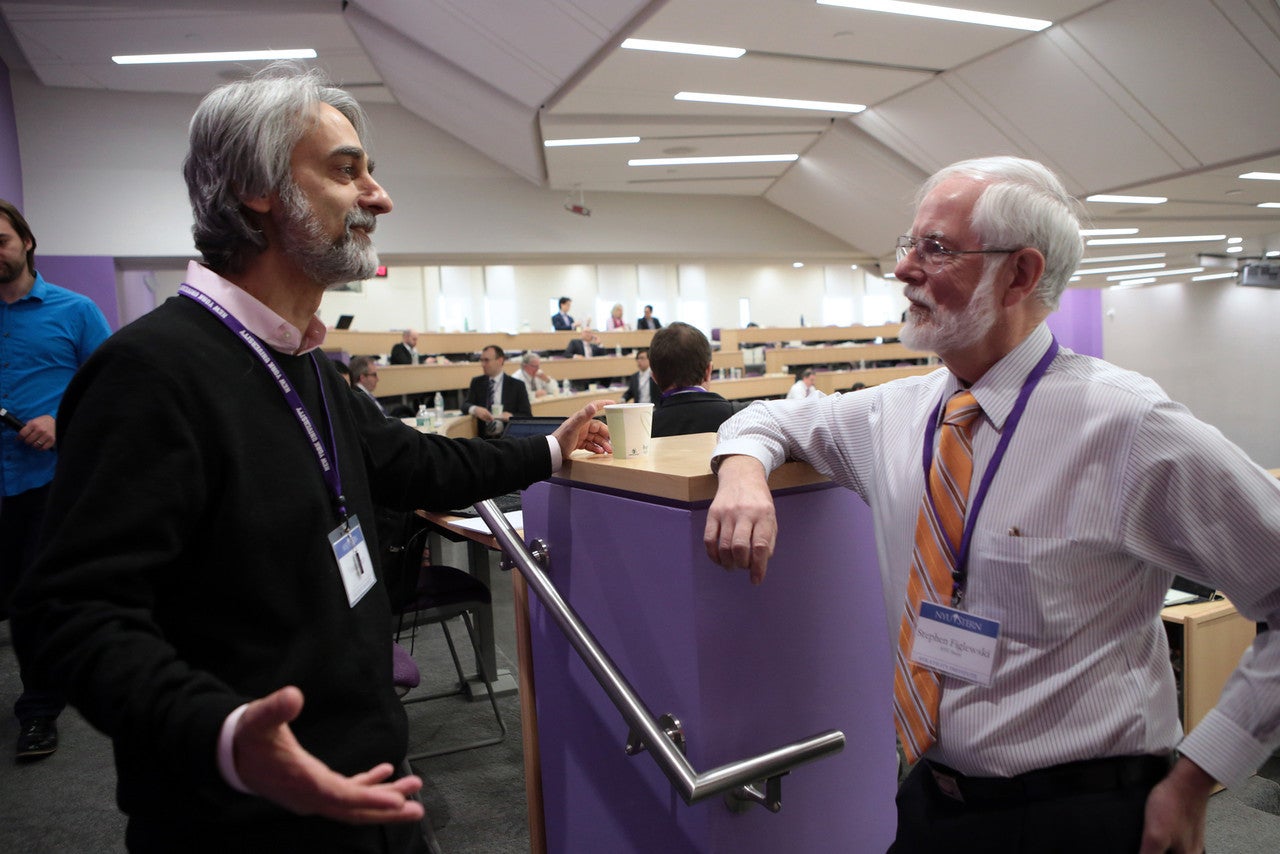 Vasant Dhar (left), Luncheon Speaker at 2014 Volatility Institute Conference, has a conversation with conference chair Stephen Figlewski

.