Upcoming Conferences
---------------------
Macro Financial Modeling Group Winter 2015 Meeting
The Macro Financial Modeling (MFM) Group Winter Meeting, hosted by the Volatility Institute at the NYU Stern School of Business, will focus on sovereign credit risk and financial stability. Scholars, central bankers and practitioners will discuss interactions between credit risks of financial sectors and their respective sovereigns. MFM fellowship awardees will also present their current research on the impact of credit cycles, banking and shadow banking, monetary policy and the redistribution channel, reserves and sovereign debt capacity.
Date:
Friday, March 13 and Saturday, March 14, 2015
Time:
March 13: 10:30 AM - 4:30 PM and March 14: 8:30 AM - 1:30 PM
Location:
NYU Stern School of Business, KMC 1-70, 44 West 4th Street, New York, NY 10012
Please visit the MFM website to view the full conference schedule
---------------------
Call For Papers -- The Volatility Institute invites submissions for the Seventh Annual Volatility Institute Conference at New York University Stern School of Business on April 24th, 2015.

"Fixed Income Risk: Measurement, Modeling and Management"
Hosted by Robert F. Engle, Director of the Volatility Institute, featuring:
KEYNOTE SPEAKER
James D. Hamilton
, Professor of Economics,
UC San Diego
THEME
After six years of essentially zero short rates and three rounds of Quantitative Easing, it is challenging to predict the risks facing fixed income portfolios and businesses. This conference will focus on research that will measure, model and manage these risks. Topics include the zero lower bound on rates, monetary policy after QE, volatility models of the term structure, European policy, policy uncertainty, fixed income microstructure, macro risks, and the overall implications for financial stability. There will be a keynote address and a practitioner panel.
SPONSORED BY
The Volatility Institute
,
BlackRock
,
Deutsche Bank
,
Nasdaq OMX
,
The Alfred P. Sloan Foundation
,
SoFiE
, and the AIG-NYU Collaborative Research Initiative
PAPER SUBMISSIONS
Academics and practitioners in the field, including those who currently are not members of the Institute, are invited to submit papers. Each author may submit only one paper. Papers may be submitted electronically via e-mail to
mmatysik@stern.nyu.edu
with the subject line "V.I. Conference 2015 Submission" and must consist of a single PDF file. No other formats will be accepted. Submissions must be received
by January 9th, 2015
. It is expected that decisions will be made
by late February, 2015
.
Papers will be selected via a review process of the Program Committee, which consists of -
PROGRAM COMMITTEE
Viral Acharya,
Stern School of Business New York University
Robert Engle,
Stern School of Business New York University
Stephen Figlewski,
Stern School of Business New York University
Eric Ghysels,
University of North Carolina – Chapel Hill
David Greenberg,
Managing Director, BlackRock, Inc.
Peter Hooper,
Chief Economist, Deutsche Bank Securities
Eric Jondeau,
University of Lausanne HEC
Matt Richardson,
Stern School of Business New York University
CONTACT
Matt Matysik,
Assistant Director of the Volatility Institute
mmatysik@stern.nyu.edu
Tel: 212-998-0826
PAST PROGRAM
For more information, including a program, full schedule, photos and video from the event, please visit our
past conference page
.
Click
here
for the Sixth Annual Volatility Institute Conference Program. You can view photos from the event
here
.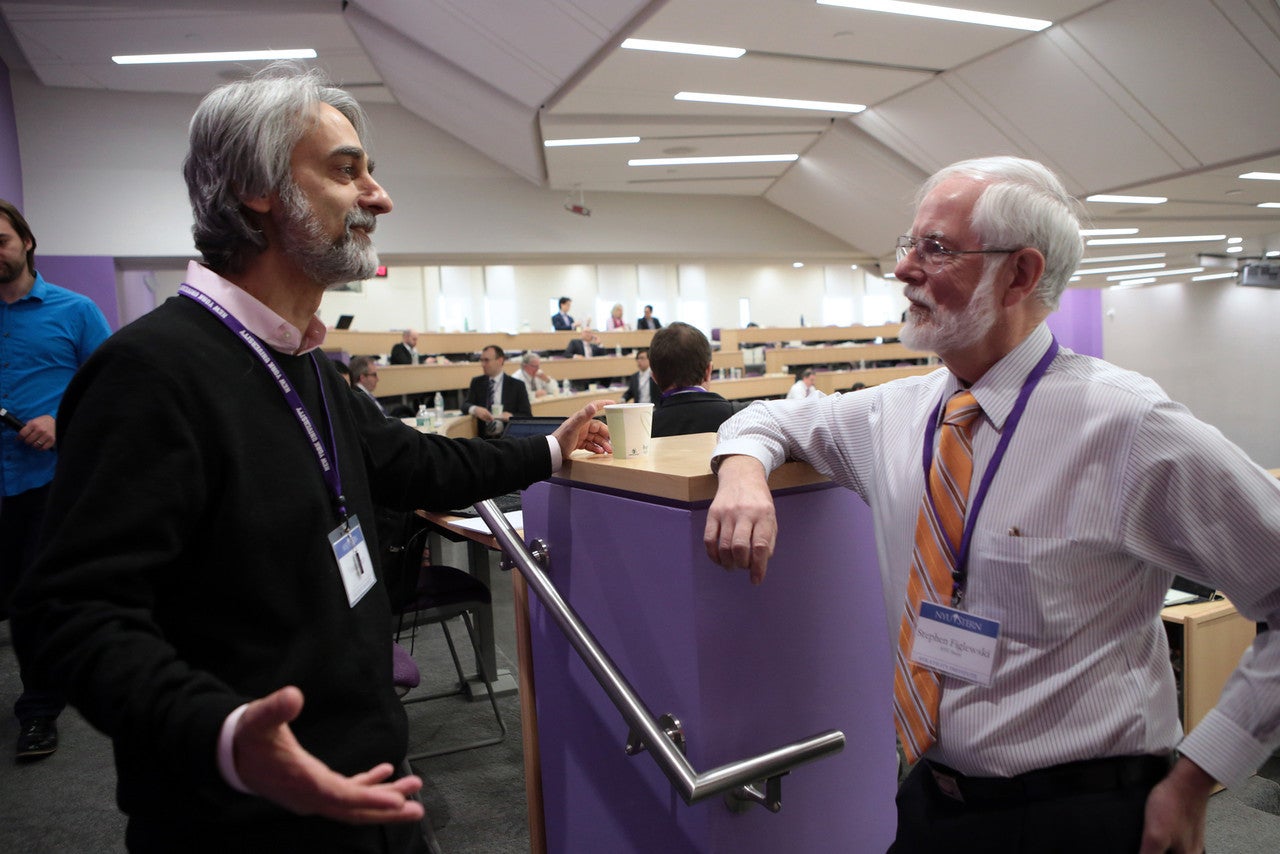 Vasant Dhar (left), Luncheon Speaker at 2014 Volatility Institute Conference, has a conversation with conference chair Stephen Figlewski

.