Research Center Events
13th Annual Haitkin Lecture Featuring Preet Bharara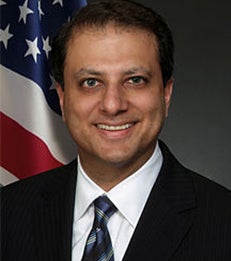 Date:
Monday, December 4, 2017
Location:
NYU Stern, New York, NY 10012
*By invitation only
NYU Stern's
Business & Society Program
will welcome Preet Bharara, NYU Law Distinguished Scholar-in-Residence and former U.S. Attorney for the Southern District of New York, to campus for the 13th annual Haitkin Lecture.
About the Haitkin Lecture
The annual Haitkin Lecture is a forum dedicated to the examination of issues of integrity and ethics in business. It is a special opportunity that allows for Stern students to listen to and ask questions of extraordinary individuals from academia, practice and the press. The Haitkin Lecture was established through the generosity of Stern alumnus Jeffrey Haitkin (BS '68).