Business and Policy Leader Events
Build Possible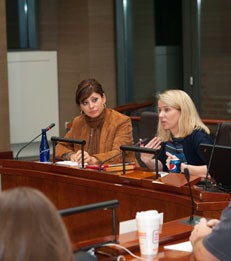 NYU Stern graduate and undergraduate students recently had the opportunity to hear from one of today's leading CEOs, Marissa Mayer of Yahoo. CNBC's Maria Bartiromo, a co-faculty member of the course, "Global Markets and Normative Frameworks," with Stern Professors
Bruce Buchanan
and
Jonathan Haidt
, engaged Mayer in a candid discussion about her background as an engineer, her time at Google, the growth potential of Yahoo and her leadership style. Mayer explained that throughout her career she has had a passion for building things including a product, a service, a team or a company.
"Global Markets and Normative Frameworks" is offered through the
Business and Society Program Area
(BSPA), The purpose of BSPA is to ensure that every Stern student graduates with a strong understanding of his or her responsibilities as a business professional, and with a keen appreciation for the role of ethics and law in creating and maintaining efficient markets and best business practices.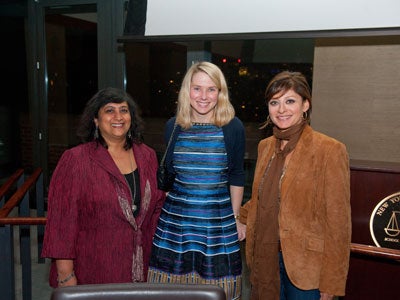 (from left to right) Geeta Menon, Dean of the Undergraduate College, welcomed Yahoo CEO Marissa Mayer and Maria Bartiromo of CNBC to NYU Stern