Press Releases
Ellen Seidman to Serve as 2013-2014 NYU Stern-Citi Leadership & Ethics Distinguished Fellow
Program Celebrates 11th Year Appointing Former Director of the US Treasury's Office of Thrift Supervision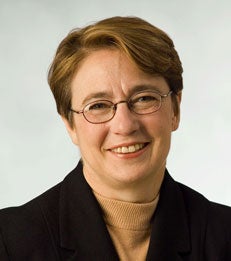 We partner with the Citi Foundation to ... expose Stern students, faculty and alumni to leaders who foster growth and innovation at the intersection of business and society. - Professor Bruce Buchanan
Marking its 11th year, NYU Stern's
Citi Leadership & Ethics Program
, sponsored by the Citi Foundation, has appointed Ellen Seidman, former director of the US Treasury Department's Office of Thrift Supervision, as its 2013-2014 Citi Leadership & Ethics Distinguished Fellow. Seidman is a senior fellow at the Urban Institute, focusing on housing finance and community development. She served as visiting scholar to the Community Development Department of the Federal Reserve Bank of San Francisco in 2012 and 2013, and has been a research fellow of the Filene Research Institute since 2011. In 2012, she was appointed to the Consumer Advisory Board of the Consumer Financial Protection Bureau.
The Citi Distinguished Fellows program identifies business leaders whose proven track records exemplify how business and government can address some of the world's most intractable problems, including poverty, homelessness and environmental concerns, and stimulate sustainable economic growth.
From 1997 through 2001, Seidman was the director of the Office of Thrift Supervision, the federal regulator of the savings and loan industry, and concurrently served on the board of directors of the Federal Deposit Insurance Corporation and as chair of the board for the Neighborhood Reinvestment Corporation. From 2002 through 2010, Seidman held various positions at ShoreBank Corporation and its affiliates. While at ShoreBank, she helped start the nonprofit Center for Financial Services Innovation (CFSI), whose board she chaired until June of this year. From 2007 to 2010, she was a scholar in the Asset Building Program at the New America Foundation, a DC-based think tank, where she provided national leadership on public policy issues related to expanding access to financial services. A major focus of Seidman's work is developing a forward-looking policy framework which encourages greater responsibility and accountability in the delivery of financial services to low - moderate and middle-income families.
Seidman also served as senior counsel to the democratic staff, House Financial Services Committee (2001-02), special assistant to the president for economic policy (1993-1997), and has held senior positions at Fannie Mae, the Department of the Treasury and the Department of Transportation. In addition to CFSI, she serves on the boards of directors of the CDFI Assessment and Ratings System, City First Bank of DC, Coastal Enterprises Inc. and the Low Income Investment Fund.
Seidman will make her first on-campus appearance on October 8, meeting with both NYU Stern students and faculty. On March 7, she will return to keynote the Citi Program's annual conference for students and alumni.
"We partner with the Citi Foundation to present the Leadership & Ethics Program, and to expose Stern students, faculty and alumni to leaders who foster growth and innovation at the intersection of business and society", said
Bruce Buchanan
, C.W. Nichols Professor of Business Ethics and director of Stern's
Business & Society Program Area
, which houses the Citi Distinguished Fellows program. "Ellen Seidman is one such leader. Her commitment and passion to serving people and businesses that have poor access to mainstream financial services make her a perfect fit as this year's fellow, and her insights on how to provide credit and financial services to underserved markets and populations will be invaluable to our community."
"We're delighted that Ellen Seidman will serve as this year's Citi Leadership & Ethics Distinguished Fellow, allowing the NYU Stern community to benefit from her renowned expertise in financial inclusion innovation," said Pamela Flaherty, president & CEO of the Citi Foundation and director of corporate citizenship at Citi. "By leveraging her leadership and work across the country in financial inclusion and community development, Ellen will contribute to a rich dialogue and a rewarding experience for NYU Stern students."
About the Citi Leadership and Ethics Program
Established in 2003, NYU Stern's Citi Leadership and Ethics Program, made possible through the generous support of the Citi Foundation and managed by Stern's Business & Society Program Area, represents a comprehensive effort on behalf of the School to extend its longstanding commitment to the practice of professionally responsible business. Ellen Seidman is serving as the program's eleventh distinguished fellow. She follows ten previous fellows: Arthur Levitt, John Biggs, Harvey Goldschmidt, Charles D. Ellis, Alice Tepper Marlin, Fred Krupp, Mary Ellen Iskenderian, Dorian Dale, Jeffrey Hollender and Mindy Lubber.
Find out more about NYU Stern's
Business & Society Program Area
.
Find out more about the
Citi Foundation
.