Business and Policy Leader Events
Paul Volcker Discusses Prospects for Financial Reform at Seventh Annual Haitkin Lecture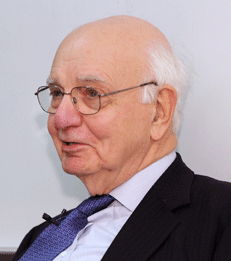 Former Chairman of the Federal Reserve Board Paul Volcker spoke with a group of more than 100 students at the seventh annual Haitkin Lecture, organized by Stern's
Business & Society Program Area
. Looking at the prospects for financial reform, Volcker underscored the importance of government oversight in today's markets and stressed the critical role of internal controls in banks.
According to Volcker, financial firms are less relationship oriented and more counterparty oriented. As a result, lending institutions don't worry enough about what's in the best interest of their customers. He also argued that the link between executive pay and performance has been lost, and that compensation practices need to change.
Turning from Wall Street to K Street, Volcker emphasized that the money spent on lobbying in Washington and the practice of legislators returning as lobbyists has reached unreasonable proportions.
About the Haitkin Lecture
The annual Haitkin Lecture is a forum dedicated to the examination of issues of integrity and ethics in business. The Haitkin Lecture was established through the generosity of NYU Stern alumnus Jeffrey Haitkin (BS '68) and allows students to listen to and ask questions of individuals from academia, industry and the media. Past speakers include Kurt Eichenwald, author of
Conspiracy of Fools
; Nell Minow, founder of The Corporate Library, author and noted shareholder activist; Marc Rotenberg, executive director of the Electronic Privacy Information Center (EPIC); Thomas Ekeli, investment director in the asset management department of the Norwegian Ministry of Finance; Rosanne Haggerty, founder of Common Ground; and Simon Johnson, author of
13 Bankers: The Wall Street Takeover and the Next Financial Meltdown
.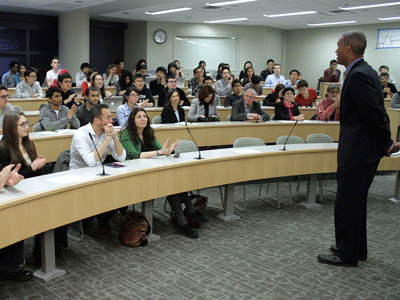 Dean Peter Henry
introduced Paul Volcker as one of his personal heroes in the field of economics.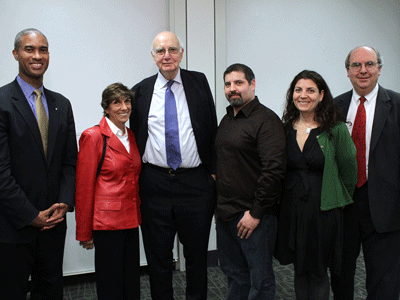 From left to right: Dean Peter Henry, Penny Haitkin, Paul Volcker, Jason Haitkin, Meri Haitkin and
Professor Bruce Buchanan
, director of Stern's Business & Society Program Area