Business and Policy Leader Events
Leadership Development Initiative Hosts Panel With Senior Executives from Condé Nast & TD Bank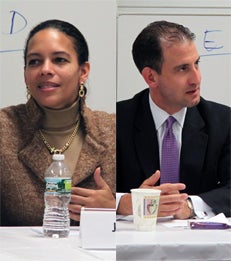 Great leaders surround themselves with a great team, they value diversity, and most important, they are willing to listen to other opinions.
Jill Bright, chief administrative officer at Condé Nast, and Mason Salit, wealth market leader at TD Bank, shared perspectives with MBA students on how great leaders succeed as part of NYU Stern's Leadership Development Initiative (LDI). During a panel discussion, moderated by Professor
Dolly Chugh
and coordinated by the School's Leadership Development team, Bright and Salit described attributes of effective leaders and shared stories of both disappointment and success in their careers.
According to both Bright and Salit, great leaders possess a number of traits, including:
Inspiration
Vision
Self-awareness
Humility
Empathy
Integrity
Willingness to admit mistakes and learn from them
The ability to balance evaluating information and being decisive
"Great leaders surround themselves with a great team, they value diversity, and most important, they are willing to listen to other opinions," explained Salit. Bright agreed, adding that good leaders create a "culture of winning." Bright and Salit also shared a few pieces of advice:
Don't wait to have difficult conversations
Build a team of smart colleagues with differing viewpoints
Stretch yourself, take risks and be willing to make mistakes