Research Center Events
NYU Entrepreneurs Festival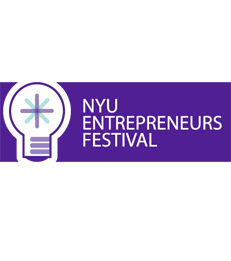 Date
: March 1 & 2, 2013
Location
: NYU Stern, Tisch Hall, 40 West Fourth Street, New York, NY 10012
NYU's entrepreneurial community – including successful student, faculty and alumni start-up founders and venture capital investors – will gather to celebrate innovation and entrepreneurship at the second annual NYU Entrepreneurs Festival.
The Festival will enable start-up founders, investors and up-and-coming student entrepreneurs to share their experiences and exchange valuable insights, offer support and provide advice on creating new ventures.
The Festival will feature more than 40 entrepreneur panelists, speakers and exhibitors – all NYU alumni, faculty and students – including:
Jack Dorsey, co-founder & CEO of Square, and co-founder & chairman of Twitter
Alexander Douzet, co-founder & COO of The Ladders
Rachel Sterne Haot, founder & former CEO of Ground Report, and chief digital officer of the City of New York
Herb Kelleher, co-founder, chairman emeritus and former CEO of Southwest Airlines
The Festival is a joint effort of the student leaders of the NYU Entrepreneurs Network, the NYU Innovation Venture Fund and the NYU Stern Berkley Center for Entrepreneurship & Innovation, collectively bringing together more than ten of NYU's eighteen schools, colleges and institutes.
More info