Tales in Possible
Envision Possible
Undergraduate College Dean Geeta Menon and CNBC's Maria Bartiromo welcomed Starbucks' Howard Schultz, who spoke to students about his vision and values for the company.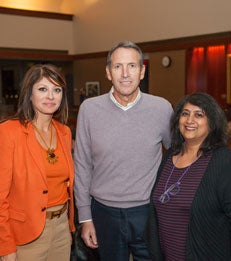 From a single store in Seattle to 17,000 stores in 55 countries, Starbucks has become a ubiquitous, global brand with a market cap of $40B. Howard Schultz, Founder, Chairman, President and CEO of Starbucks, recently spoke to undergraduate and graduate students as part of the "Global Markets and Normative Frameworks" course. Led by CNBC's Maria Bartiromo, a co-faculty member of the course, with Stern Professors
Jonathan Haidt
and
Bruce Buchanan
, Schultz discussed his vision for the company, the importance of setting and maintaining its core values and his leadership style.
Throughout the discussion, Schultz emphasized that success is attained by surrounding yourself with people who share your values and building long-term value—not short-term profit.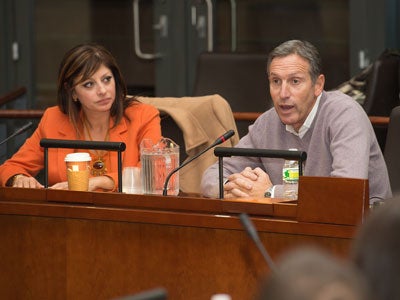 "Global Markets and Normative Frameworks" is offered through the
Business and Society Program Area
(BSPA), The purpose of BSPA is to ensure that every Stern student graduates with a strong understanding of his or her responsibilities as a business professional, and with a keen appreciation for the role of ethics and law in creating and maintaining efficient markets and best business practices.