Karthik Krishnan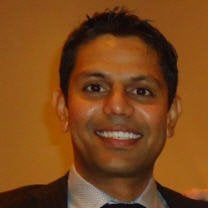 Leonard N. Stern School of Business
Tisch Hall
40 West Fourth Street, 900
New York, NY 10012
E-mail kkrishna@stern.nyu.edu

Biography
Global Digital Media Executive
Karthik Krishnan is Elsevier's Senior Vice President and General Manager of the Global Clinical Reference and Decision Support business, which helps Clinicians improve health outcomes for patients, and hospitals comply with regulations including Affordable Care Act. He has been with the RELX group (a FTSE 100 company) for over 10 years in roles including SVP & GM Global Pharma and eCommerce and VP Interactive Media and Sales Management. In the digital head role he oversaw strategic and operational activities of publishers, editors, sales managers and marketers and developed new monetization and user engagement of 44 trade brands including Variety, Broadcasting & Cable, Multichannel News, Publishers Weekly, Interior Design and Hotels.
He is currently on the board of Urban Upbound, a nonprofit focused on transforming the lives of people in public housing in New York city through job training, financial fitness and college education. He is an adjunct professor at New York University – Stern School. He is a National Association of Corporate Directors (NACD) governance fellow.
Prior to RELX, Karthik was Principal at Agilone responsible for building a relationship marketing practice aimed at maximizing Customer Lifetime Value. He was also involved with the William J. Clinton Foundation and was recognized by President Clinton for his leadership in launching the Urban Enterprise Initiative. He has also spent a number of years at Rodale, publisher of healthy active living magazines and books, launching award winning websites (backpacker.com and menshealth.com), developing eCommerce channels and forging business partnerships with MSN, Nissan and AOL.
Karthik has an MBA from New York University - Stern School. He received the distinction Stern Scholar and was inducted to the Beta Gamma Sigma honor society. He has a Bachelors in Engineering from Coimbatore Institute of Technology and was conferred the Student of the Year and Best Outgoing Student awards. He is also certificated in Design Thinking (Human Centered Design) by Stanford University.
Courses Taught
The Business of Publishing
Academic Background
MBA
NYU Stern School of Business
Bachelors Degree
Coimbatore Institute of Technology
Certificate, Design Thinking
Stanford University