Karthik Krishnan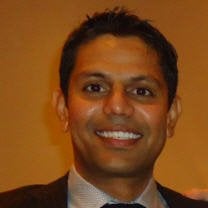 Leonard N. Stern School of Business
Tisch Hall
40 West Fourth Street, 900
New York, NY 10012
E-mail kk88@stern.nyu.edu

Biography
Global CEO, NYU Professor and NACD Certified Board Director: Passionate about lifelong learning, transformative leadership and societal impact
Karthik believes in the transformative power of education and is passionate about enabling lifelong learning. As the Global CEO of Britannica Group (Britannica, Merriam-Webster, Britannica Knowledge Systems, and Melingo), he is focused on elevating trustable information in the digital universe and transforming learning both inside and outside the classroom. Under his leadership, Britannica Group (BG) was recognized as #1 company to watch in EdTech, Top 20 brand in voice innovation, Apps (PUKU -- vocabulary learning) we love by Apple, and as a Great Places to Work. BG has filed a patent for Artificial Intelligence (AI) plus Natural Language Processing (NLP) powered knowledge discovery solution. In one of the strategic shifts orchestrated by Karthik, BG partners with ministries of education globally to enable remote learning and shape STEM & STEAM learning experiences to meet 21st century needs. BG has also forged strategic partnerships with YouTube (Video), Samsung (IoT), Northwestern University (AI), and Nickelodeon. BG today generates over 7 billion pageviews annually (Top 5 site globally in the Knowledge Reference category) through its consumer facing digital experiences and reaches over 150m students in 120 plus countries in 20 plus languages through its education institutions focused SaaS solutions.
Karthik is also an Adjunct Professor (since 2012) at New York University Stern School of Business, where he teaches students about the media industry and how disruptive forces (digitization, consumer-generated content) are reshaping the industry (new business models, M&A). He is on the board (since 2009) of Urban Upbound, a nonprofit focused on transforming the lives of people in public housing in New York City through job training, financial fitness, and college access. He also serves as a non-executive director on the boards of Britannica Knowledge Systems and Melingo.
Invited to the World Economic Forum Expert Network, Karthik is recognized as an expert on Future of Information, Education & Skills, and Future of Health and Healthcare. He is also recognized as a Top 100 global influencer in Education Technology. He serves as an advisor to UNICEF and Global Coalition for Education on Youth Skills and Education.
Prior to joining Britannica, Karthik spent over a decade at RELX (formerly known as Reed Elsevier; a FTSE 100 company) in various business leadership roles, driving business and cultural transformations and accelerating growth. In his last role, as Senior Vice President and General Manager for the Global Clinical Solutions business, he launched products that won coveted industry recognition, including Best in KLAS and Frost & Sullivan Technology Innovation awards. The solutions were aimed at helping physicians, nurses, pharmacists and allied health professionals make better decisions at the point of care by leveraging context (patient info from EMR) and latest research and clinical guidelines.
He was involved with the William J. Clinton Foundation and was recognized by former President Clinton for his leadership in launching the Urban Enterprise Initiative. He has been involved in a number of transformative initiatives including Doubling India's agricultural production, Transforming Harlem (New York City) into a vibrant business community and tourist destination, and Establishing New York University (Stern Business School) as the pioneer and top destination for Entertainment, Media and Technology specialization.
Karthik has an MBA from New York University Stern School of Business. He received the distinction Stern Scholar and was inducted into the Beta Gamma Sigma honor society. He has a bachelor's degree in engineering from Coimbatore Institute of Technology and won the Student of the Year and Best Outgoing Student awards. He also earned a certificate in Design Thinking (Human Centered Design) from Stanford University. He is a National Association of Corporate Directors (NACD) governance fellow.
Published articles: World Economic Forum: Human-centered approach to AI, 3 vital skills for the disruptive age, Education system relevance & reset; Forbes: Spot top talent with LID; The Hill: Early childhood education investment
Interviews - CEO Today: Transformative power of education & lifelong learning; CIO: Learning at the heart of Britannica's digital evolution; Chicago Tribune: Fighting misinformation; Tech for Good: No substitute for learning
He strives to live up to a guiding mantra – "Every job is a self-portrait of the person who does it. Autograph your work with excellence."
Courses Taught
The Business of Publishing
Academic Background
MBA
NYU Stern School of Business
Bachelors Degree
Coimbatore Institute of Technology
Certificate, Design Thinking
Stanford University