John Vermeer, MBA 2012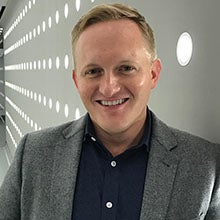 John is Vice President, Business Development & Partnerships at iHeartMedia, where he is responsible for strategic relationships with major corporate partners across iHeart's many platforms including radio, digital streaming, live concert events, original video/audio and more. He began his post MBA career at Samsung Electronics in South Korea and has also previously held positions at News Corporation and with the Producer of the Broadway show, Wicked.


If you could visit any place in the world, where would you go and why?
Tierra del Fuego in Argentina because I love Argentinian culture for its mash-up of old world charm with Latin flair! It also sounds like a cool place to visit because of its proximity to glaciers and of course the penguins.
What is your favorite childhood memory?
I grew up in Minnesota so many of my favorite memories revolve around boating in the land of 10,000 lakes. I also had great experiences canoeing in the Boundary Waters between the U.S. and Canada.
If you could have an endless supply of any food, what would it be?
At the moment, I'd have to say shishito peppers because they're both deliciously satisfying and healthy. They taste even better with a butter topping… which I realize is less healthy.
What is your favorite memory from your time at Stern?
In my second year at Stern, I participated in a one-week trek to Tanzania. There were about five Jeeps of Sternies driving through the Ngorongoro Crater, all of us amazed by the incredible views and wildlife. We went on dawn and dusk safari rides and were warned not to leave our tents at night… it was right out of The Lion King!
Why do you choose to stay engaged with Stern as an alumnus?
I am very fond of my Stern experience, mostly because of the terrific professors and wonderful peers I was able to meet and work with -- many of whom I am still close with to this day. I want to help ensure that all current and future classes have an awesome experience like the one I was afforded. That is really what motivates me to participate on the Alumni Council and give back in other ways to the School.
What quote most inspires you?
"A ship in the harbor is safe, but that is not what ships are built for."
~ John A. Shedd
---