Kanuj Malhotra, MBA 1998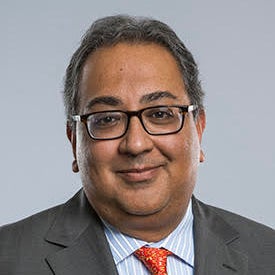 Kanuj Malhotra serves as Chief Operating Officer, Digital Education, and Chief Strategy & Development Officer at Barnes & Noble Education. Prior to this role, Mr. Malhotra was Chief Financial Officer of NOOK Media since July 2013, after he joined Barnes & Noble as Vice President of Corporate Development in May 2012. Prior to joining Barnes & Noble Inc., Mr. Malhotra was Vice President and Finance Head for Kaplan Test Prep, a division of The Washington Post Company, from 2011 to 2012. At Kaplan, he led a business transformation from physical test centers to a digital online learning platform. From 2008 to 2010, Mr. Malhotra was Chief Financial Officer of Sloane Square Partners LLC. Between 2005 and 2007, he was the Chief Financial Officer for the International Division of the Cendant Marketing Group and Affinion International, which was divested by Cendant Corporation to Apollo Management. Mr. Malhotra began his career in Mergers and Acquisitions at Lehman Brothers. He earned his MBA in Finance and his BA in Economics from New York University.
If you could visit any place in the world, where would you choose to go and why?
I have lived in Europe, Asia and the Middle East, and I have traveled extensively. Every place has brought me new memories and new friends. My favorite place is therefore somewhere new no matter how close or how far!
What is your favorite book, or genre of books?
Siddhartha by Herman Hesse. I am currently reading Autobiography of a Yogi, which apparently Jobs read every year. It was recommended by a friend. I guess the genre is spiritual awareness.
Are you a morning or night person?
I started as a night person having been an investment banker early in my career. Later my kids made me a morning person!
What is your favorite memory from your time at Stern?
My investment philosophies class which was moderated by Professor Aswath Damodaran and has guests like Michael Price and Leon Cooperman.
Why do you choose to stay engaged with Stern as an alumnus?
My Stern experience has been pivotal in my career and life. It has created a foundational base for my professional knowledge and is an important part of my personal network. It keeps giving and my involvement is a way for me to give back to the larger Stern community.
What quote most inspires you?
"If you want to be happy. Be."
~ Leo Tolstoy
---