Misha Shvedoff, MBA 2011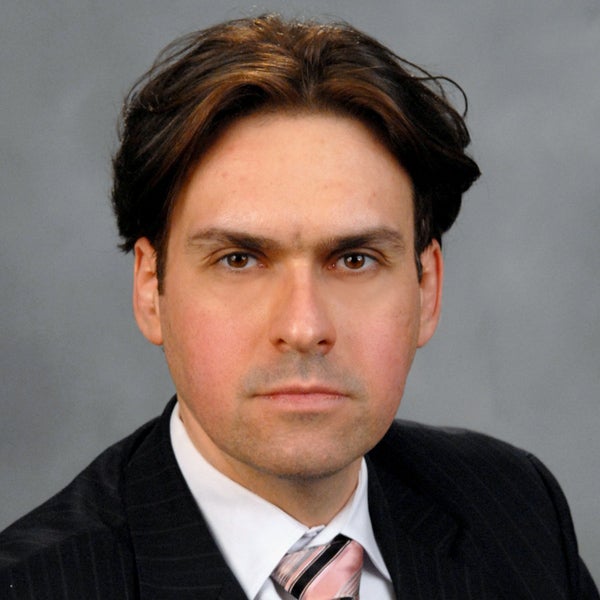 Misha Shvedoff is currently a Vice President at Deutsche Bank, working in the Americas Treasury Finance Group. In this role, Misha manages the Finance work stream for an enterprise-wide project to enhance Deutsche Bank's interest rate risk management capabilities. Previously, Misha developed enhanced liquidity risk management governance and analytics as part of Deutsche Bank's Americas Treasury Group. Before joining Deutsche Bank, Misha held a variety of banking, finance and treasury roles at American Express. Outside of work, Misha plays the bass in a local rock band.
If you could visit any place in the world, where would you go and why?
In Western Russia, not far from Moscow, there is an area called the Golden Ring. It is a collection of eight medieval cities and I'd love to explore the history of this region. I was born in Russia but haven't been back since 2008 -- it would be great to visit and tour parts of my home country.
As a musician, how does music help you find your "sound"?
Music is my creative outlet and what happens in music is often a parallel to what happens in life. Just as a student must collaborate with his peers in the classroom, a musician must collaborate with the other members in the band. A student must set goals for himself inside and outside the classroom, just as a musician must set goals during rehearsal and onstage. I have found that through music, I can practice skills that are needed in order to thrive in other areas of my life.
If you could have an endless supply of any food, what would it be?
Sushi, hands down. I could eat sushi at any time of the day, at any restaurant or café. I don't have a favorite roll, I love them all equally.
What is your favorite memory from your time at Stern?
I took part in two global study tours during my time at Stern, and was able to visit Croatia, Slovakia, and China. My peers and I had the unique ability to interact with big companies within these countries and learn about their business challenges and successes. It was a very eye-opening experience.
Why do you choose to stay engaged with Stern as an alumnus?
Stern always stressed the importance of a strong professional and personal network. I have found that the best way to tap into the Stern network and give back to the School is to stay involved in as many ways as possible. By joining the Alumni Council, serving as the Chair for the EMAC Committee, attending as many events as I can, and keeping up with the happenings of the School, I'm able to give back in the best way I know how.
What quote most inspires you?
"Sometimes you have to play a long time to be able to play like yourself."
~ Miles Davis
---