Sharon Li, MBA 2011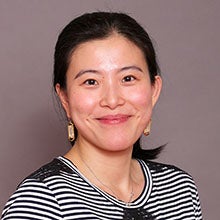 Sharon Li is a Director of Accounting at Spindrift Equities, LLC, a private investment company, where she oversees tax, accounting and asset management. From 2011-2014, Sharon worked at HighBrook Investors, a real estate private equity firm, as a Vice President and Chief Compliance Officer. She also served on HighBrook's Risk Management Committee. From 2005-2011, she worked in the Private Equity Group of Goldman Sachs Asset Management, most recently serving as a Vice President. From 2004-2005, Sharon worked at Morgan Stanley Real Estate Funds as a financial analyst.
As a student, where was your favorite spot to spend time at Stern?
As a part-time MBA student, I spent a lot of my time in Sosnoff Lounge, grabbing a bite to eat before heading to class.
What is your favorite musical genre?
Pop! My 4-year-old daughter and I adore Katy Perry!
Are you a dog or cat person?
Neither. Although I grew up with a family cat, I don't consider myself an animal person.
What is your favorite memory from your time at Stern?
Meeting so many smart people and having the opportunity to learn something new every time I entered the classroom. Working in finance and accounting during the day could get repetitive, so I always looked forward to class time and the opportunity to explore something new.
Why do you choose to stay engaged with Stern as an alumnus?
I always wanted to go to Stern for my MBA and the degree really helped propel my career, which I am grateful for. I have also always been passionate about promoting advancement in business for women, and Stern is doing great work in this area through the Stern Women in Business (SWIB) network. I enjoy participating in the SWIB alumnae committee and giving back to Stern.
What quote most inspires you?
"Life is not a problem to be solved, but a reality to be experienced."
~Soren Kierkegaard
---