Tony Watkins, MBA 2011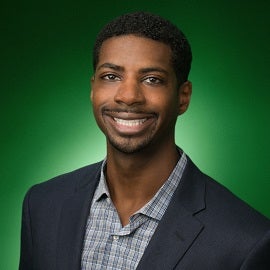 Tony Watkins is a Head of Industry in Marketing and Sales at Google. In this role, he is responsible for managing a team of marketing and sales specialists who unlock the potential for advertisers to grow their businesses with Google.

Prior to this role, Tony worked in several positions within the Marketing and Sales organization at Google, managing clients in the media and entertainment vertical. Before joining Google, Tony worked at leading advertising agencies in Philadelphia and New York.

Mr. Watkins also serves on the Board of FC Harlem.
As a student, where was your favorite spot to spend time at Stern?
Mamoun's Falafel! It's a legendary spot serving affordable, delicious food. I often went there after my morning classes to grab a bite to eat, catch-up on emails, and get work done.
What is your favorite seasonal activity?
Now that I'm living in San Francisco, I'm able to enjoy nice weather all year round. I like to go hiking with my dog, Von… just a man and his best friend, living the California lifestyle.
If you could have an endless supply of any food, what would it be?
Traditional Mexican tacos -- I could eat them every day of the week! There's so much variety in terms of fillings, too. When I visited Cabo, the fresh tortillas baked in traditional ovens did not disappoint.
What is your favorite memory from your time at Stern?
My favorite memories from Stern are those that were outside of the classroom. I had the opportunity to travel to Tanzania on a DBI trip, where we spent half our time in the capitol meeting with local businesses and learning about emerging trends in East Africa, and the other half on a safari. Another trip that really stands out is when I visited San Diego to work on a case competition about launching a sports team. I recall being "stuck" in a luxury box at a San Diego Padres game and learning how to build a financial model.
Why do you choose to stay engaged with Stern as an alumnus?
Stern has given me so much to be grateful for, it feels natural to stay engaged and give back. My time at the School was really a springboard to the next stage in my career, and by staying involved I'm able to help others reach the next stage in their careers, too. I've been at Google for almost six years and have really enjoyed recruiting fellow Sternies to join our team. Staying involved also allows me to expand my network and meet awesome new people.
What quote most inspires you?
"Not everything that is faced can be changed, but nothing can be changed until it is faced."
~ James Baldwin
---