Undergraduate Program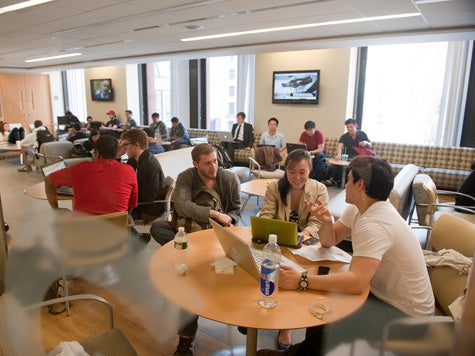 Management Concentration
Choosing a concentration in Management will enable you to understand how organizations work in any industry (e.g., financial services, consumer products, new technology), how to make them more effective, how to direct your career, work effectively with peers and, ultimately, lead those that work for you.
The management course program helps students develop a repertoire of skills to anticipate, address, and resolve the central challenges of running organizations in the 21st century. You will learn how to identify (and implement) the best strategy for a firm. You will also examine ways in which people work as individuals, as team members, and as organizational members.
You may also consider pursuing the Management Consulting Track (MCT). Stern's approach is to teach consulting as an effective way of thinking about businesses and solving business problems that is applicable in any job role inside and outside the consulting industry. Consultants identify and adapt "best practices" to the firms that hire them, working on different projects across different industries with access to the top executives in the firms they consult to. Consultants can be called on for their strategic, operational, industry, and financial expertise. This track is an excellent complement to a concentration in management as well as in other areas (e.g. finance, marketing, accounting).
The courses that contribute to this track have this symbol, MCT, next to the course title.
Career Preparation
All careers involve the management of individuals and groups. The management program is designed to provide students with both practical skills and an understanding of the underlying theory that will make you an effective individual contributor and manager. You will learn to view the business as a whole, to evaluate the overall needs of an organization (for-profit, and not-for-profit and government) and to define supporting objectives. You will develop an outlook that enables you to perceive and anticipate opportunities to innovate and the need for change.
As management always involves people, courses present the most recent theories concerned with human behavior along with current practices that affect and influence behavior in work organizations. The management course program complements the more specialized focus that necessarily characterizes courses in other functional areas. It helps students prepare and succeed in a managerial career that leverages but is not limited to a functional specialization.
Management Concentration Requirements
(12 units)
Students who decide to concentrate in management will take four courses (12 units) in advanced management electives after completing the required core course Management and Organizations MGMT-UB 1. Some multidisciplinary (MULT-UB) courses have also been approved to count toward fulfilling management concentration requirements.
Students pursuing a concentration in management and organizations should consult with their adviser in the Stern Office of Academic Advising by the end of sophomore year to ensure that course distribution requirements are being met and to formally declare the management concentration. The Department of Management and Organizations undergraduate faculty adviser is always available to advise you on which management courses best fulfill your objectives.
Department of Management/Department Core
Class Title
MGMT-UB.0001 Management & Organizations (MCT Essential)
MGMT-UB.0011 International Studies Program
Plus four courses from the following:
MGMT-UB.0004 International Business Management
MGMT-UB.0007 Managing People & Teams
MGMT-UB.0008 Managing Innovation (MCT)
MGMT-UB.0009 Managing in Creative Industries
MGMT-UB.0018 Strategic Analysis (MCT Essential)
MGMT-UB.0021 Managerial Skills
MGMT-UB.0025 Managing Change (MCT)
MGMT-UB.0028 Managing Family Businesses & Privately Held Firms
MGMT-UB.0030 Negotiation and Consensus Building
MGMT-UB.0035 Growth Strategy and Management
MGMT-UB.0066 Power & Politics
MGMT-UB.0085 Patterns of Entrepreneurship
MGMT-UB.0094-0099 Independent Study in Management and Organizations