MBA Business Analytics Club
The Business Analytics Club (BAC) is led by a core group of MBA students who are dedicated to education and professional development on analytics and leveraging data. The BAC collaborates with the Center for Business Analytics, NYU and Stern faculty, and industry partners to provide the student body with:
Training
Training in various programming languages and data visualization tools
Application
Opportunities for students to work with data analytics in a real-world setting and understand its applications across a wide spectrum of industries
Networking
Facilitating interactions between students, faculty and leading researchers in the field of analytics
In addition to hosting events and trainings, the BAC promotes analytics internships and full-time employment. In collaboration with the CBA, the BAC works with industry partners on a select number of team oriented semester-long analytics projects.
Former BAC Co-Presidents Kat Cullen and Larry Hellman introduce a whisky and analytics event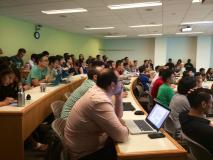 BAC Club Kickoff Event