Crafting Tomorrow's Luxury: ISSP-NYC Leaders in Sustainability Talk with Laurent Claquin, Head of Kering Americas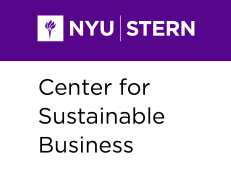 Wednesday, April 19, 2017
Join the NYU Center for Sustainable Business and the International Society of Sustainability Professionals (ISSP) in a conversation with Laurent Claquin, head of Kering Americas, as he discusses sustainable branding in the business world today. A global luxury group, Kering develops an ensemble of luxury houses in fashion, leather goods, jewelry and watches. Kering believes that sustainability and luxury are one and the same, and over the last ten years has placed sustainability at the core of their business strategy. By "empowering imagination," Kering encourages its brands to reach their potential in the most sustainable manner. Mr. Claquin will explore Kering's targets for 2025, discussing how the Group intends to launch disruptive solutions and empower future generations. He'll also provide insight into Kering's Environmental Profit & Loss (EP&L) methodology, which allows a company to measure in monetary value the environmental impacts generated across its entire value chain.
Laurent Claquin is Head of Kering Americas, the parent company of 20 global luxury, sports, and lifestyle brands, including Gucci, Yves Saint Laurent, Alexander McQueen, Balenciaga, Brioni, Stella McCartney, Puma, and Volcom. He has been with Kering (formerly PPR) since 2004, when he joined as an Advisor to Francois-Henri Pinault at Artemis. Before his current role, Claquin initiated and developed Kering's corporate social responsibility program, and prior to that he was Kering's Senior Vice President of Communication. Claquin also has held positions in the arts and government, including roles as the Deputy Communications Director at the Pompidou Center, Deputy Chief of Staff to the French Minister of Culture and Communication, and Technical Advisor to the Minister.
You can read more about the event
here
.