Michelle Cronin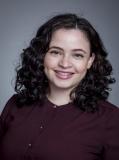 Email: mcronin@stern.nyu.edu
Biography
Michelle is a pre-doctoral student concentrating in Organizational Behavior in the Department of Management and Organizations at New York University's Stern School of Business.
In a very broad sense, Michelle is most interested in research issues related to diversity, power, and hierarchy. During her time at Stern, Michelle will be further investigating these interests while working under Dr. L. Taylor Phillips and other faculty as well. Additionally, she is a Research Assistant at the Center for Behavioral Research.
Michelle received her A.B. from Harvard University, where she concentrated in Visual and Environmental Studies (film studies track) and minored in psychology and French. Prior to joining Stern, she gained professional experience in several industries including marketing, education, performing arts, and law.