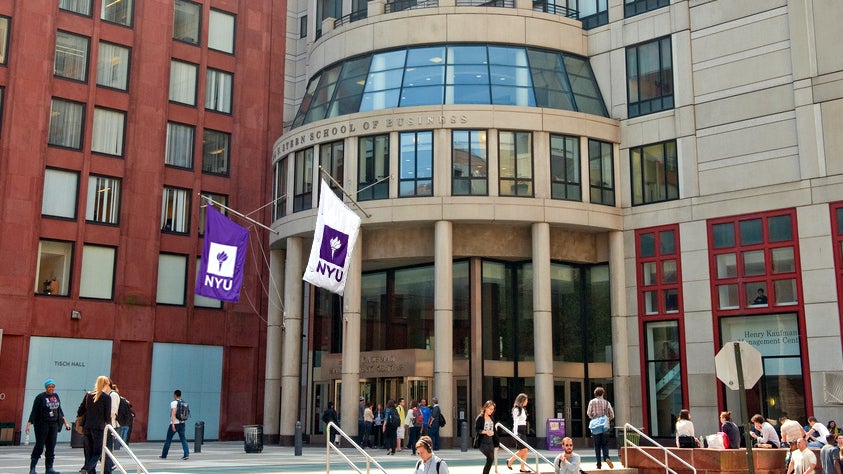 Stern Students Speak
What's life like at NYU Stern? Find out from our students.
Undergraduate Student Spotlight

Name: Jacqueline Allen
Hometown: Sudbury, MA
Graduation Year: 2015

Jacqueline, the current president of the Marketing Society, is pursuing her Bachelor's in Marketing and Management, with a minor in the Business of Entertainment, Media and Technology. She will be joining Unilever in the summer of 2015 for their Future Leaders management development program, and she intends to pursue a career in brand management.

Why did you choose to attend NYU Stern?

I knew that I wanted to be involved in business, and Stern just has really great connections with the industries around here. There are so many opportunities offered to students that wouldn't necessarily be possible at a school in the middle of the country—there are people who take their lunch break to come and talk to us. It's those awesome connections, opportunities and networking that are available here in New York and at Stern that are so exciting.


What's one thing about Stern Marketing that people don't know?

I think that people don't always know how impressive the professors are. A lot of professors in marketing had really great experiences working on brand launches, being in charge of a company—a lot of these can benefit these professors' classes by explaining how it actually works in the real world. Students don't always recognize them immediately, but they are really involved with the industry and have valid experiences to share.


What was your favorite class?

Advertising Management with Professor Greene, because he structures the class entirely around the project, so we get to be both sides of the advertising industry. You start out being the strategy team that's creating a brief, and then you present it to another group—and you turn around and become the creative group for another team's brief, and you have to make a mock-up ad based on their strategy and present it back to them. It's a really cool way to understand the advertising industry from both perspectives.


What would be your advice to students who want to study at Stern?

I would tell them to come with an open mind, and to not be so set on what they think they're going to study. Come, take a look at what's here. Take all of your intro classes before deciding on your major, see who's out there, see if you like the people in your industry.


What are your career aspirations post-graduation?

I'm going to be joining Unilever's management development program. It's a three year rotational program within marketing and sales; I'll be moving every 6-8 months to a new office location and job title. It's a fast-track program to management, because when you're done you have the skills to be a successful brand manager.

I really like where I'm going—I really like that I'll be working with brands, because I think it's so cool to be able to own a part of a brand's story and be able to shape that brand's story. I also want to continue my interest in theatre (hopefully I'll be able to invest in Broadway shows one day!).


What is the best thing about being in Stern/NYU/New York?

The opportunities that exist because you go to Stern and are in New York—I've been able to intern almost every semester that I've been here because it's down the street or just uptown, and there are so many different industries to explore while you're here.


What do you do for fun?

When I studied abroad in Florence, I took some art classes, so I've been trying to do more photography and a little bit of painting, trying to be a little more creative—I'm taking a class this semester in Steinhardt called Intro to Galleries where we go to different art galleries every week. I also like to go to Broadway plays. I have 22 Playbills from my Freshman year alone!


Learn more about the Marketing Society and its members here.