Stern's World-Renowned Faculty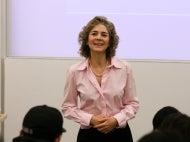 Stern's world-class faculty is comprised of more than 200 internationally recognized scholars, including three Nobel Prize winners.
Ranked 4th as the most prolific researchers in the world, and mentioned
in the news
more than 23 times per day, NYU Stern faculty members are engaged with the business world, bringing their real-life experiences and practical lessons right into the classroom. Visit our
Stern Faculty News
to read the latest coverage.