Student & Alumni Spotlight of the Month
Andrea Baptista (BS '11)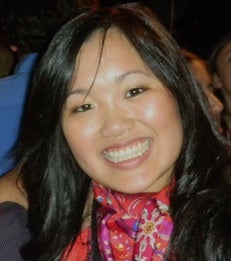 "I always make time for things that inspire me," says alumnus Andrea Baptista (BS Jan '11), whose time at Stern kindled an enduring interest in social awareness. "The Social Impact core encouraged me to think about the ways businesses and individuals can better society and solidified my commitment to social responsibility."
As a student, Andrea founded NYU's Association for International Development and Entrepreneurship and led her peers in entrepreneurial endeavors for charity. Her dedication to service work extended beyond campus as well. Over the past several years, Andrea's been involved with various charitable causes and socially conscious organizations including Styleta, the non-profit she helped launch while still in school.
"Styleta is a student-run venture that collects donated designer clothing, sells them online and on college campuses, and contributes the profits to other charities," Andrea explains. "Student volunteers gain hands-on business experience and fashion-savvy consumers can purchase discounted designer duds, all while giving back to the community." Andrea signed on to help develop Styleta in its conceptual stages. As Director of New York Operations, she used her Stern business background to assist with strategy development and communications, and helped expand the organization to additional college campuses. She credits her Stern experience with giving her the confidence and determination to take on an entrepreneurial venture while still pursuing her degree. "The Stern curriculum provided a solid foundation in all aspects of business, including technical skills and social awareness, and my peers and professors encouraged me to reach for my goals."
During her academic career, Andrea also combined her social impact interests with her passion for traveling when she joined "Journey for Change." The program pairs college mentors with local pre-teens and teens from underserved communities for a three-week service trip to South Africa. "We toured shanty towns, sat down with go-gos (grandmothers who often care for many grandchildren), and met with orphans," Andrea describes. "The experience opened our eyes to life in another part of the world, and hopefully inspired our mentees to continue to engage in socially responsible activities as they get older." She adds that the experience created lifelong bonds and she continues to mentor many of the young people in the program.