Student & Alumni Spotlight of the Month
Vivian Li (BS '14)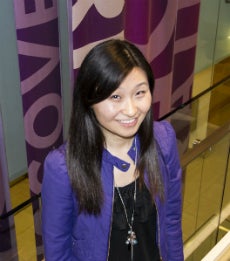 Five Questions for Vivian Li (BS '14)What are you studying at Stern?
Marketing and Information Systems, and a minor in Business of Entertainment, Media, and Technology
Are you involved with any student clubs?
I've been a very active member of the Stern Marketing Society. I've served on the eboard as Treasurer, Vice President, and Industry News Manager. Being involved with the Marketing Society has been one of the best parts of my experience at Stern. The Marketing Society has consistently held great events, hosted top industry professionals and has such great members and eboard officers. I've had the opportunity to organize large events, as well as an entire panel of speakers. I have also moderated a panel and served as a mentor to several Stern underclassmen. I really recommend that new students consider joining clubs at Stern because it's a great place to find a community and find mentors who can really give you advice for your time here at Stern and beyond.
What's your favorite Stern class?
There are so many that I've enjoyed, but one that immediately comes to mind because I have just taken it last semester is "New Product Development." I really like how it incorporates all aspects of marketing and also gave me the chance to be entrepreneurial and creative.
What's something important that Stern has helped you learn inside and outside of the classroom?
I would say presentation skills, especially knowing your audience. And how to take advantage of opportunities. Stern has also helped me to learn about the things I value and want to pursue in terms of my career.
Have you had any cool internships?
Yes, I've had three really great internships: Product Management Intern at MasterCard, Global Public Relations Intern at Bain & Company, and Strategy Intern at Converseon, a social media agency. As a Product Management Intern, I was able to work on the strategy for the launch of a mobile app, and really owned that project. Also a fun perk was walking in the NYC PRIDE parade with MasterCard, and getting fantastic seats at a special employee price for a Beyonce concert, which MasterCard sponsored. When I graduate, I want to pursue a career in marketing for brands. I'd also like to get involved in developing new products. I will get an MBA at some point too!