Application Instructions
Please note that our application is undergoing annual updates and will be available in August.
Essay questions
and
deadlines
for Fall 2016 are now available.
Please note that the information below pertains primarily to our
online application
. If you are re-applying to Stern, please review the instructions for
re-applicants
before continuing. If you are applying to Stern through
The Consortium
or through one of our dual degree joint applications (
JD/MBA
,
MBA/MPA
, or
MD/MBA
), you must follow the instructions for those applications.
Review the entire Application Instructions section carefully before beginning the online application. Also be sure to review the Selection Criteria, Deadlines, Notification & Process and Policies pages to the left before applying.
Use the Application Checklist below to ensure you have accounted for all application components.
If you are mailing supplemental application materials, please follow the instructions at the bottom of the page
.
Mail Labeling Instructions for Supplemental Application Materials
Please send any supplemental materials, such as sealed recommendations (if you received prior approval from NYU Stern MBA Admissions to submit by mail) and Essay 2b (personal expression) if applicable (follow Personal Expression Essay size restrictions), in a labeled envelope or package according to the following instructions.
Clearly label any envelopes or packages sent to NYU Stern MBA Admissions with the last/family and first/given name under which you applied, as shown in this diagram: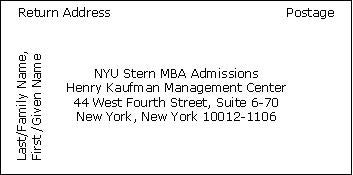 Materials sent to the NYU Stern MBA Admissions office in unlabeled envelopes or packages may be subject to a processing delay.
Mail materials to:
NYU Stern MBA Admissions
Henry Kaufman Management Center
44 West Fourth Street, Suite 6-70
New York, New York 10012-1106
Mailed materials must be postmarked by the deadline date.