Research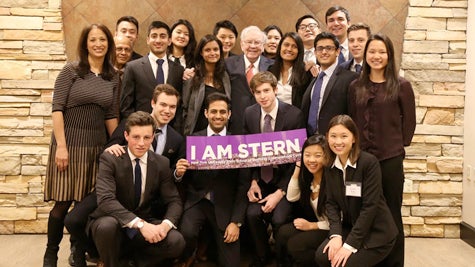 Honors program students travel to Omaha, Nebraska with Honors Program Founder and Distinguished Professor Marti Subrahmanyam and Assistant Dean Tiffany Boselli (left) to meet Warren Buffett (center).
Undergraduate students can participate in a variety of research opportunities with Stern faculty. These opportunities reflect Stern's ongoing commitment to academic excellence.
Honors Program: Established in 2001, the Honors Program pairs high-achieving seniors with faculty members who mentor participants through graduate-level research and thesis development over the course of two semesters.
Stern Program For Undergraduate Research (SPUR): Through the SPUR database, students expand their intellectual development through academic research, learning from world renowned Stern faculty conducting state-of-the-art research projects. Stern students engage one-on-one with Stern faculty to learn research methodologies used in the field and directly support their groundbreaking research.