Student & Alumni Spotlight of the Month
Kimberly Pham (BS '14)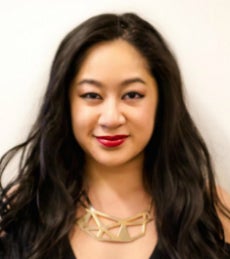 Five Questions for Kimberly Pham (BS '14)

Are you involved in any student clubs or extracurricular activities at NYU and at Stern?

I have really loved being extremely involved in a wide range of student organizations throughout my time here. I'm currently Chair of
Tech@NYU
, Social Media Director of the
NYU Restaurateur Club
, and a
Resident Assistant
at Carlyle Court. I've also served as the VP of the Class of 2014 during my freshman and sophomore years through the
Stern Student Council
, as well as Communication Director of
NYU Vietnamese Students Association
.

What are your top Stern and NYU memories so far?

It is coming full circle for me at Stern. I spoke at this year's first installment of the Senior Series after serving as the VP of my class for my first two years here. I am also beyond humbled to have been selected in Stern's Senior Student Speaker Competition to deliver a commencement address at
Baccalaureate
. I can't wait to celebrate with my entire class at
Radio City
in May! Another experience I will not forget is leading and growing
Tech@NYU
. It's been amazing to watch this beautiful community of developers, designers and builders come together through technology. I was also selected to attend the
SXSW
Interactive conference this spring, thanks to NYU Stern and the
InteractATX
program. I was sent to sunny Austin, Texas with a group of extremely talented, interdisciplinary student leaders from across the country. SXSW was a truly incredible learning and networking experience. Highlights include seeing astrophysicist Neil deGrasse Tyson deliver his keynote, hanging out with Bill Nye as he spoke about product innovation, and snapping pictures with internet sensation Grumpy Cat at the Mashable House!


Have you had any interesting internship while at Stern?

I'm really passionate about early-stage tech and the NYC tech community. I've had fantastic internships at NYC startups, including
LocalResponse
,
BOND
,
HowAboutWe
,
Blue Apron
, and
Onswipe
. I also was lucky to work with two VC firms:
Softbank Capital
and
Atlas Venture
. Each of these internships have been incredible learning experiences. My coolest internship was at Blue Apron. My responsibilities varied from hopping on calls with brands to discuss partnerships, trying out recipes with our master chef in the test kitchen, and visiting gourmet food shows to scout out quality products! I loved that I got to work with a team that inspired me as well as work closely on a product that is incredibly meaningful.

What was your favorite class at Stern?
I loved
Digital Marketing
with Professor Cohen! Something that has been extremely helpful, which I learned in class, is the importance of understanding search and affiliate marketing, along with when and how to best utilize them.
What advice do you have for new students starting at Stern in the coming Fall?
Everyone at Stern is interesting and diverse in their passions, hobbies, and interests. My advice is to celebrate the unorthodox. Don't be afraid to run after what you love, even if it doesn't necessarily turn into a career. Never lose what makes you unique.