Student & Alumni Spotlight of the Month
Matthew Wilson (BPE '17)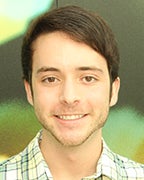 Five Questions for Matthew Wilson

As a BPE student, I will spend my entire sophomore year at
NYU London
and my junior fall semester at
NYU Shanghai
. After exploring Europe and Asia, I look forward to taking the
International Studies Program (ISP)
my junior spring semester, and visiting a country in South America. It's important that I learn about as many different cultures as I can while studying at Stern.
Which of the courses you have taken so far is your favorite?
The BPE writing class, Introduction to Political and Economic Thought taught by
Professor Joseph Foudy
, is my favorite. The course focuses on political and economic philosophies. This not only got me excited for future classes, but it was also interesting to learn about the endless perspectives there are in the world.
Describe a few of your internship experiences to date.
Throughout high school, I served as a religious education teacher in my church and as a freshman mentor in my high school; I knew I had to find some way to give back while I was studying at NYU. This year, I have been lucky enough to work with
America Reads
, which places college students in elementary school classrooms to help teach reading and writing. I love my kindergarten class. I visit them a few times a week and it's amazing to see their progress throughout the year and actually witness the improvement in their reading.
What do you see yourself doing in ten years?
I see myself working in the TV industry in the future. Everyone in my family pictures me behind the scenes with a headset and clipboard directing everyone. However, as a current freshman, I am happy to say that my career goals change daily. I'm really interested in the marketing side of the entertainment industry, but tomorrow I may get excited about producing or consulting. Stern encourages me to continuously search for what interests me.
You are wrapping up your first year studying in New York City. What has been your favorite memory so far?
My favorite NYC memory so far would definitely be my birthday in September. My friends and I went to breakfast at this small French café, walked the Brooklyn Bridge, watched a movie, and then I got to go to the
Global Citizen Festival
and not only hear world leaders speak about issues of poverty, education and recycling, but also see John Mayer, Stevie Wonder and Alicia Keys perform. NYC is the only place you can try a new type of food, go sight seeing, relax and go to a concert all in one day!