Student Clubs, Organizations, and Government
Involve yourself in our student organizations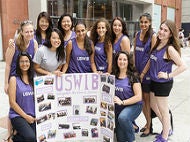 Stern's strong community encompasses many micro-communities that include clubs, teams and groups you can join based on your personality and interests. Participating in student organizations helps you develop your leadership potential, explore different career paths, and build new friendships.
Choose from nearly
25 Stern-specific clubs
and over
400 All-University clubs
(including academic, professional, recreational, political, cultural, religious, athletic, social, and service-oriented clubs, and more.)
You can join Stern organizations such as the Finance Society, the Investment Analysis Group, and the Professional Development Society. You can get involved in NYU clubs like the Comic Book League, the Mixtapes (co-ed acapella group), and the Chess club. Whatever you're interested in, there's a club for you!