Essentials of Online Course Design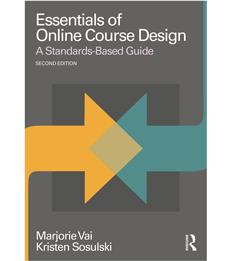 The core issue is simply good design: pedagogical, organizational and visual.
By Kristen Sosulski and Marjorie Vai
In spite of the proliferation of online learning, creating online courses can still evoke a good deal of frustration, negativity, and wariness in those who need to create them. Professor
Kristen Sosulski'
s second edition of
Essentials of Online Course Design
takes a fresh, thoughtfully designed, step-by-step approach to online course development. At its core is a set of standards that are based on best practices in the field of online learning and teaching. Pedagogical, organizational and visual design principles are presented and modeled throughout the book, and users will quickly learn from the guide's hands-on approach. The course design process begins with the elements of a classroom syllabus which, after a series of guided steps, easily evolve into an online course outline.
The guide's key features include:
a practical approach informed by theory
clean interior design that offers straightforward guidance from page one
clear and jargon-free language
examples, screenshots, and illustrations to clarify and support the text
a checklist of online course design standards that readers can use to self-evaluate
a Companion Website with examples, adaptable templates, interactive learning features, and online resources
___
Kristen Sosulski is an Associate Professor of Information Systems and Director of Education for the W.R. Berkley Innovation Lab.
---