False Accusation: The Unfounded Claim that Social Media Companies Censor Conservatives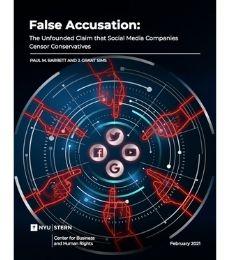 A new report from the
NYU Stern Center for Business and Human Rights
entitled "
False Accusation: The Unfounded Claim that Social Media Companies Censor Conservatives
" argues there is no reliable evidence to support the claim that tech companies are censoring conservative viewpoints. 
Authored by
Paul Barrett
, the Center's deputy director, and J. Grant Sims, a Ropes & Gray Research Fellow with the Center, the research notes the false bias narrative is an example of political disinformation, meaning an untrue assertion that is spread to deceive. The report offers recommendations for the social media industry including: 
Provide greater disclosure for content moderation actions
Offer users a choice among content moderation algorithms
Undertake more vigorous, targeted human moderation of influential accounts
Release more data for researchers
The authors recommend that the new Biden Administration take action to: 
Pursue a constructive reform agenda for social media
Work with Congress to update Section 230
Create a new Digital Regulatory Agency
Read the full report on the Center's website
here
. 
---