Norwegian Finance Initiative Awards Two-Year Grant to Professors Robert Engle and Johannes Stroebel for Research on Financial Economics and Climate Change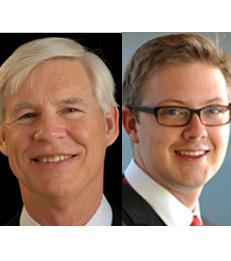 Nobel Laureate
Robert Engle
, Michael Armellino Professor of Finance and director of the
Volatility Institute at NYU Stern
, and
Johannes Stroebel
, Associate Professor of Finance at NYU Stern, have been awarded a $323,747 grant by the Norwegian Finance Initiative (NFI) for their research on environmental risk with a financial approach.  
Established in 2014, the NFI Research Programme aims to facilitate research in areas of particular relevance for the long-term management of the fund. This two-year grant will support Professors Engle and Stroebel's research, which will apply the tools of modern finance and risk management to measure and model environmental risks, particularly those from climate change.
As part of the project, which begins in April 2017, the NYU Stern Volatility Institute, led by Professor Engle, will organize a conference bringing together where academics and practitioners to discuss financial approaches to environmental risks and climate change.
__
Robert Engle is the Michael Armellino Professor of Finance and the Director of The Volatility Institute at NYU Stern School of Business​. Johannes Stroebel is an Associate Professor of Finance at NYU Stern School of Business​
---