Research Highlights
A Platform 'Weaponized': How YouTube Spreads Harmful Content—And What Can Be Done About It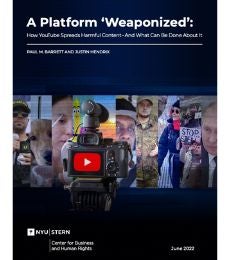 A new report from the NYU Stern Center for Business and Human Rights advocates that YouTube should be more transparent about how its technology works and ought to provide researchers with greater access to data needed for empirical studies. At the same time, Congress needs to authorize sustained federal oversight of the social media industry.

In response to criticisms that the platform's own recommended videos were "radicalizing" impressionable users, YouTube and its parent, Google, attempted to reduce recommendations of misinformation and conspiratorial content by altering its recommendation algorithm. But the platform needs to go further, a new report argues. People can still find potentially harmful material in other ways. And because of language and cultural barriers, YouTube's content moderation efforts are less successful abroad, carrying significant implications as roughly 80% of YouTube traffic comes from outside the United States
A new report from the
NYU Stern Center for Business and Human Rights
,
"A Platform 'Weaponized': How YouTube Spreads Harmful Content—And What Can Be Done About It"
argues that with there is a knowledge gap with YouTube, as the company has received less scrutiny from researchers and policy makers, in part, because of the difficulty of analyzing long-form videos compared to text or still images.
Authored by Paul M. Barrett, deputy director of the Center for Business and Human Rights at NYU Stern, and Justin Hendrix, adjunct professor at NYU Tandon School of Engineering and the CEO and editor of Tech Policy Press, the report notes specific recommendations that YouTube and the US Government should enact:
For YouTube:
● Disclose more information about how the platform ranks and removes content
● Facilitate greater access to data that researchers need to study YouTube
● Expand and improve human review of potentially harmful content
● Invest more in relationships with civil society and news organizations
For the government:
● Allocate political capital to reduce the detrimental side effects of social media
● Enhance the Federal Trade Commission's consumer protection authority to oversee social media
Read the full report on the Center's website
here
.