Business Across Borders
CGEB-CREFR Conference on China's Real Estate Markets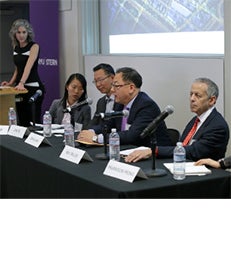 On April 17, NYU Stern's
Center for Global Economy and Business
(CGEB) and
Center for Real Estate Finance Research
(CREFR) co-hosted the Conference on China's Real Estate Markets. Led by Professors
Jennifer Carpenter
and
Stijn Van Nieuwerburgh
, director of CREFR, the conference brought together leading experts on China's real estate markets for an in-depth discussion of the origins of the Chinese property boom and a study of its consequences for the Chinese macro-economy, financial institutions and markets, government and the rest of the world. Nobel Laureate and Professor
Michael Spence
delivered the lunchtime keynote talk, and Professors Jennifer Carpenter,
Paul Romer
, Stijn Van Nieuwerburgh and
Robert Whitelaw
served as moderators for panel discussions.
A complete overview
of the conference presentations can be found on the
CREFR website
.
Professor
Kim Schoenholtz
, director of CGEB, also highlighted the conference discussions in a recent
article
on his blog.