Making Strides: Seven Years After the Global Financial Crisis" with Gordon Brown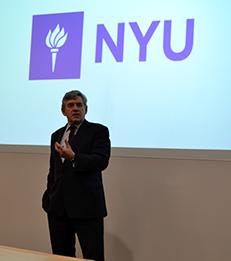 Even in seemingly hopeless situations, there's hope if you have a vision of the future and you build toward it.
The Right Honourable Gordon Brown, former Prime Minister of the United Kingdom, presented a talk entitled "Making Strides: Seven Years After the Global Financial Crisis" to more than 100 students from NYU's Stern School of Business, the School of Arts & Sciences, the School of Professional Studies, Wagner School of Public Service and Steinhardt School of Culture, Education and Human Development this fall.
"Global problems require global cooperation," he said, outlining a number of areas, such as climate change, economic growth, financial regulation and world trade, that require commitment and support from leaders around the world.  He described the creation of the G20 Summit as a constructive development, along with the efforts undertaken to address the transformational shift from national to global economic decision making in the aftermath of the 2008 financial crisis. However, he noted that in the seven years that have passed, coordination has broken down, and the world economy is still operating far below its potential for growth.   
Brown shared a number of related issues that need to be resolved urgently, including:
Access to education, from primary school to universities
Breakdowns in the political economy
Declining donor aid and resources to developing countries
Currency wars and a retreat to the protectionist views of the 1930s
Healthcare costs and medical research focused on diseases common in the richest countries
The European migrant crisis 
Although the talk largely focused on areas for improvement, Brown also highlighted positive signs of change ahead. For example, he cited how social media is transforming the way people can interact with world leaders and help shape public opinion on issues. He emphasized that, as a global community, we have the ability to solve many pressing problems through teamwork and a coordinated vision because, despite our differences, we have shared values, shared institutions and shared interests to achieve the common good.  
Brown concluded the afternoon, reminding the students, "Even in seemingly hopeless situations, there's hope if you have a vision of the future and you build toward it."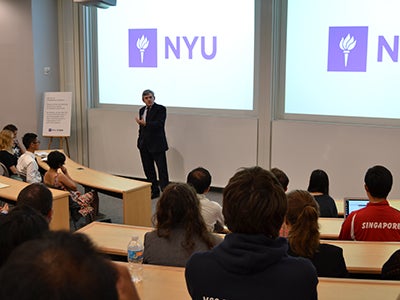 ---