Formula for Success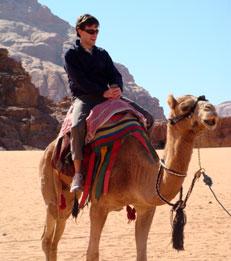 The MSGF program deepened my understanding of the theoretical finance framework in which [investment banks] operate, as well as how these concepts are applied in practice.
Holland Sullivan (MS '13), alumnus of the NYU Stern-HKUST MS in Global Finance program, shares his story as a global business leader
Focus, preparation and follow-through might not be Holland Sullivan's motto, but it is clearly his formula for success.
A managing director at Griffin Securities, a boutique investment bank with deep subject matter knowledge in health care, tech and energy, Sullivan has set about building the foundation of his career with purpose and energy.
As an undergraduate economics and political science major, he was president of the Yale University Political Union. With no intention of practicing law, the Texas native pursued a law degree at Baylor University (and was president of his class) with the goal of getting training in transactions and litigation, to learn about the interplay between the two and to develop a strategic sense of the law's influence on business dealings. Directly after law school, he joined Merrill Lynch as a financial advisor. After five years there and a stint running his own financial compliance consulting practice, where he worked on the Bernard L. Madoff fraud inquiry, Sullivan joined Griffin Securities.
At Griffin, as he gained experience in structuring and executing transactions, he said, "I became involved in our capital markets work, expanding our reach to the Middle East and Asia. Much of my work has focused on cross-disciplinary subject matter, e.g., energy and tech converging in clean tech or healthcare and tech converging in pharmaceutical benefits management data analytics."
A year into the Griffin job, Sullivan had found his focus – it was time for more preparation, which not only included learning Mandarin, but also seeking a degree program that would enhance his knowledge of finance on a global stage. He chose NYU Stern's
MS in Global Finance
(MSGF), a partnership with the Hong Kong University of Science and Technology (HKUST). "I created a checklist of ideal qualities, searched throughout the US and abroad, and only NYU Stern-HKUST appeared to have this program," he recalled.
"I specifically wanted a finance-focused program, not a broad-based MBA, given my career stage. I wanted a peer group with significant experience both in finance and in industry, and I valued an international perspective. I expected a quantitatively rigorous program balanced with pragmatic, real-world examples of applied theory in practice. I wanted a one-year, intensive, global degree program that allowed me to work without its being an 'executive' program. Others have sprung up since that time, but none offer the Stern-HKUST faculty and international exposure."
The MSGF program exceeded Sullivan's expectations, especially in light of his focus on Asia, where he is the primary contact for Griffin's Asian institutional investor base. "HKUST is the rising star of business schools with its own alumni network and sterling reputation as the Asia region's top business school," he said. "After ten years in financial services, I have now worked in each of the main divisions of an investment bank: asset management, securities and investment banking. The MSGF program deepened my understanding of the theoretical finance framework in which these institutions operate, as well as how these concepts are applied in practice."
Based in New York with Griffin Securities, married and with a young son, Sullivan is beginning to consider his next steps. "After 10 years of advisory work for client firms of investment banks, I look forward to becoming the client, i.e., going into industry and possibly even building a company," he said.  "Both require many disparate skills, and my law license, finance transactional experience and proficiency in foreign languages will prove useful in a global business environment." With Sullivan's habit of focus, preparation and follow-through, the smart money's on him. 
---