Business Across Borders
Building Hope for a Brighter Future in South Africa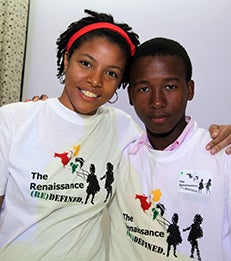 [My NYU Stern] classes on social entrepreneurship, nonprofits and global innovation were key in sustaining our venture.
In 2006, Tammeca Rochester (MBA '11) took some time away from her 9-5 job as an engineer for The Colgate Palmolive Company (CPC) and traveled to South Africa. Instantly struck by the dire-looking futures for orphaned children, she vowed to do something right then and there. "The need for education and career development resources in South Africa was undeniable," she remembers. "To many, the prospect of becoming an engineer, and a female engineer at that, was near impossible."
Taking on this challenge, Rochester founded
The Renaissance Group International
(TRG), an international nonprofit organization based in Johannesburg that provides academic support, leadership training and community service opportunities to underprivileged young people around the world. "Every day we're tackling a number of challenges faced by impoverished youth, including how to manage your check book, how to start a business, mental health and hygiene, physical fitness, nutrition, HIV/AIDS awareness and more," explains Rochester.
"As TRG took off, I knew I needed additional business acumen to make it a success," admits Rochester. "So I applied to Stern based on the School's strong reputation in entrepreneurship and social enterprise, and because of the unbeatable location." While maintaining her full-time position at CPC, Rochester took classes on nights and weekends through the
Langone MBA for Working Professionals
. She remembers that time vividly: "I really had three jobs – student, engineer and entrepreneur."
While at Stern, Rochester entered the Social Venture Competition and made it all the way to the finals with TRG. "During the eight-month program, I gained key insights and knowledge about starting a social venture," she explains. "Plus, I made some incredible connections with like-minded students and mentors. In fact, I'm still in touch with some of our coaches from the competition." Rochester also credits the Stern curriculum and network for some of TRG's early success: "The classes on social entrepreneurship, nonprofits and global innovation were key in sustaining our venture."
After graduating with her MBA in 2011, Rochester made another important career move. "Armed with the Stern credential, I was able to transition from an engineering position to a marketing role within CPC – a move that's really rare at the company." At the same time, TRG was quickly gaining ground. "Using the market research tactics that I learned at Stern, my colleagues and I were able to gather detailed information about our donors and supporters, and began to tailor our communications for optimal fundraising results."
Of course with two full-time jobs, Rochester has her hands full. She starts her days at 6am with calls to South Africa, followed by a full day at CPC and then more calls and e-mails with TRG colleagues at night. Despite the long days, she says it's all worth it: "As chairman and founder of TRG, I've overseen the development of a pre-school, the implementation of a global curriculum, the launch of an annual leadership summit for high-school students and so much more. I've also secured on-going relationships with sponsors and donors to ensure our continued success in communities around the world – and I couldn't be more proud of our results."