Business Across Borders
Managing Your Offshore Team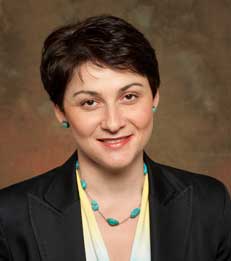 By Natalia Levina, Associate Professor of Information Systems & Research Seminar Coordinator
who are willing and able to engage their bicultural backgrounds without adopting high-brow imperialistic attitudes towards their former compatriots
By Natalia Levina, Associate Professor of Information Systems & Research Seminar Coordinator
When it comes to assigning a US-based leader for your offshore team, choosing someone from the same culture could backfire, according to NYU Stern Professor
Natalia Levina
.
Levina, of Stern's Information Systems department, studied US financial services organizations and other large companies to determine whether there is an advantage to assigning an immigrant from the offshore culture as the US manager of the team.
She found that while immigrant managers help with communication because they know the culture and the language, how they view themselves in relation to their home country determines their success as leaders.
Immigrant managers who identify with their offshore team members make better leaders than those who distance themselves from their origins, according to Levina and a co-author
Aimee Kane
, "When present meets past: Onshore immigrants managing off-shored software development and engineering projects."
Levina found that immigrant team leaders fare poorly when they consider themselves to have succeeded in the US because they had qualities superior to those of their former countrymen. They are overly controlling, tending to give instructions with little context and discouraging the sharing of ideas.
By contrast, immigrant team leaders who identify with their ex-countrymen try to help their employees understand the business. The employees are then better able to collaborate with the company and generate innovative ideas that find a friendlier reception.
US management should aim to assign offshore team leader roles to those immigrants "who are willing and able to engage their bicultural backgrounds without adopting high-brow imperialistic attitudes towards their former compatriots," Levina concludes.