Globalize Possible
The Masters in Global Finance Program, a partnership between NYU Stern and HKUST, celebrates 10 years of educating global finance leaders.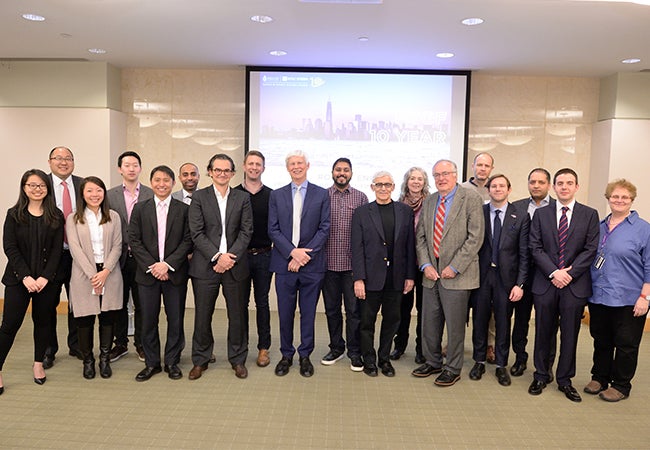 On April 6, a group of 75 students, faculty and alumni gathered at Stern in New York for the first celebration of the program's 10-year milestone.
The
MS in Global Finance
(MSGF), a partnership program between HKUST and NYU Stern that launched in 2007, marked its 10-year anniversary with celebrations in both New York and Hong Kong.
"Since the program's launch 10 years ago -- one of the earliest partnerships on global finance between a US and Asian business school -- we have witnessed a truly transformative time for the global finance industry, including the US and Eurozone financial crises, the Dodd-Frank Act, the China stock market crash and an anti-globalization movement," explained
Eitan Zemel
, vice dean of global and executive education at NYU Stern and associate vice chancellor for strategy and dean of business at NYU Shanghai. "The program started out as being fully Hong Kong based.  Over time, and in response to the growing global interest, the program expanded its geographic distribution, with modules in Hong Kong, New York City, and Shanghai."  
Responding to dynamic global markets, the program's curriculum has also evolved to include new course offerings, including Global Macro and Asian Markets, Behavioral Finance, Financial Markets and Corporate Finance in China, and Fintech. Similarly, the student demographic has diversified with some 37 percent of students in the last three years coming from outside of Asia, as compared to 3 percent in the program's first two years.
"In this time of unprecedented political and economic volatility, the program has been the premier global finance program, developing leaders who are uniquely positioned to navigate these challenging circumstances," said Professor
Menachem Brenner
, co-academic director for the program.
"The faculty who teach in the program from both NYU Stern and HKUST are second-to-none," continued Professor Brenner, pointing to the first-ever book on the 2008 financial crisis authored by Stern faculty.
On April 6, a group of 75 students, faculty and alumni gathered at Stern in New York for the first celebration of the program's 10-year milestone. Nobel Laureate Professor
Robert Engle
, director of NYU Stern's
Volatility Institute
, delivered a keynote on "The Prospects of Global Financial Stability," drawing from his research on systemic risk in international financial markets. Students, faculty and alumni will celebrate once more at a "
Future of Finance
" anniversary conference on May 6 at HKUST in Hong Kong.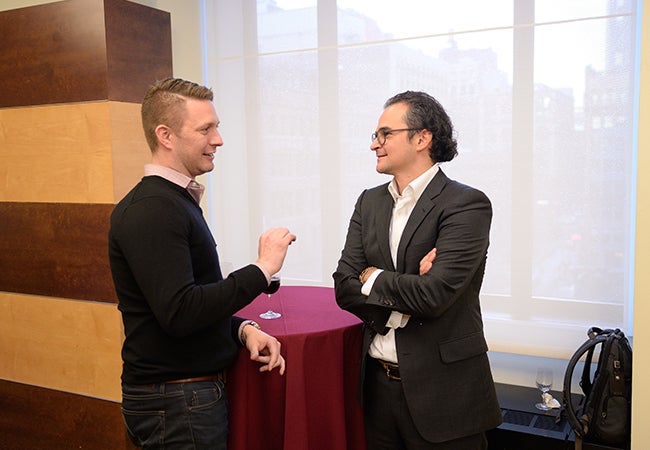 MSGF students Nick Adams (left) and Alfredo Alarcon (right) speak at the first celebration of the program's 10-year milestone on April 6. 
Nick Adams, who will complete his MS in Global Finance later this year, says he chose the program to gain a deeper level of finance knowledge. Adams, who had completed his MBA several years prior, was interested in making a career transition from an operational role in the software industry to an investment role in the venture capital industry. Through classmate and alumni connections from the program, Adams secured a position as a venture partner at Flatiron Investors, where he now sources new deals with companies that are seeking funding and working with the firm's portfolio companies.
Adams says he enjoys attending a global program and meeting a diverse group of classmates who have become good friends. To prospective applicants, he says that the MS in Global Finance is "a great way to expand your experience, education and get you to think in a different way."
Rolando Liang ('08), who was in the first-ever MSGF cohort, says he chose the program to gain a global perspective on business. He received his MBA in Taiwan, but was eager to gain an international perspective and develop a new, global network of business executives and entrepreneurs.
Today, Liang, who lives in Costa Rica, works in the pension fund business and owns an international logistics company with offices in Costa Rica, Taiwan and Shanghai. He is focusing on building a successful investment team and working with local regulators to expand investment opportunities beyond local markets in Costa Rica. "Graduating from a well-respected program offers credibility," Liang says, "and the network has been invaluable in doing business internationally."
Both Adams and Liang underscore the knowledge and strong bonds they have developed during the program. "The effects are in every one of us, even 10 years later," Liang says, explaining that he is still in close contact with his former professors and classmates. "This program is really special." 
---