Stern Stories
Brave Possible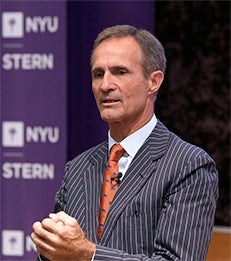 Stern alumnus and Executive Board member Mark Patterson encouraged the newest class of Langone MBAs to embrace risk at Langone Lab, an orientation program for Stern's working professionals
Be thorough, be opportunistic, and be a leader. - Alumnus Mark Patterson
Stern alumnus and Executive Board member Mark Patterson encouraged the newest class of Langone MBAs to embrace risk at Langone Lab, an orientation program for Stern's working professionals
"Put yourself in the path of risk," NYU Stern Executive Board member and alumnus Mark Patterson (MBA '86) urged incoming
Langone MBA
students in a keynote speech to kick off Langone Lab, a weekend-long orientation program for Stern's working professionals. "Don't overanalyze. Be thorough, be opportunistic, and be a leader."
Patterson shared several formative moments in his professional career with the students, highlighting the ways his MBA from NYU Stern's Langone Part-time MBAprogram inspired him to foster his professional network and take the calculated risks that led to his success. Patterson, co-founder of MatlinPatterson Global Advisers, began his career as an immigrant in the US. He steadily worked his way up into key roles in some of the most prestigious firms in commercial and investment banking and, most recently, to establish his own company, from which he recently retired after serving 40 years in the industry. He encouraged the students to stay focused on their primary talents and to surround themselves with a strong community of peers with complementary skills.
In their opening remarks, Dean
Peter Henry
and Dean of Students Conor Grennan echoed the importance of relying on one's peers throughout the MBA experience and beyond. "When you are focused on your classmates, you'll find you have countless other people focused on you," Dean Grennan said, referencing the breadth of experience of the incoming class.
Dean Henry welcomed the students to the NYU Stern family, telling them that their commitment to one another's success would ensure they could be free to expand their perspectives, pursue experiences outside of their comfort zones and take the risks that lead to big opportunities, without fear of failure.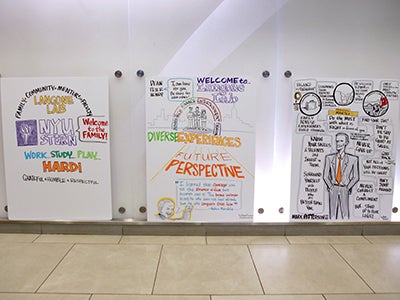 As the students prepared for a weekend of collaboration and team challenges under the guidance of Professor
Luke Williams
, also Executive Director of NYU Stern's Berkley Center for Entrepreneurship and Innovation, Dean Henry offered parting words of inspiration from the beloved A. A. Milne character, Christopher Robin. "Always remember," he said, "you're braver than you believe, stronger than you seem, and smarter than you think."