Stern Stories
Buzz Possible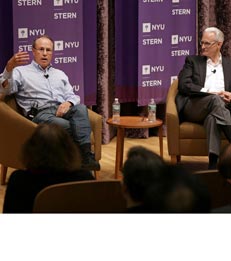 Greg Coleman
, President of BuzzFeed and former President of HuffingtonPost.com, joined MBA students for a 2014-2015 Speaker Series event. Professor
Jeffrey Carr
moderated the discussion, beginning with a one-on-one interview and followed by an open Q&A session with students.
"It's not about making money but about taking an adventure where the path is not so obvious," Coleman said of his career move from traditional publishing to digital media. He explained that it was a risky move at the time, because so little was known about the digital industry. Coleman, now considered a leading expert in digital media and advertising, has helped lead a variety of companies in the field, including HuffingtonPost.com, Criteo, Yahoo and AOL.
More specifically, Coleman shared insights from BuzzFeed's business model and the way the company differentiates itself from competitors. BuzzFeed initially didn't expect millennials to make up their core audience. But as they evolved, the platform penetrated approximately 56% of 18 to 34-year-olds in the US. He indicated that millennials contribute to the ever-increasing video consumption on their site. Coleman also revealed there is no secret to why content goes viral, but BuzzFeed constantly tests and learns from their past content in order to create successful strategies for themselves and advertisers.
Unlike other tech sites, BuzzFeed does not feature display ads, but instead advertises through branded content, which is mostly created in-house. "In a world of disruption," Coleman said, "companies need to break the mold and create innovative online content in order to be successful within digital's competitive industry." He predicted that SEO will become less important, and social media will increasingly become more important. To close, Coleman answered the question on everyone's mind: Will print media still be around 10 years down the road? His answer: "Of course there is still a spot for print media, but not without real innovation."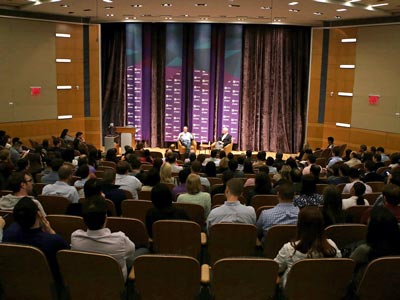 ___
This Langone Speaker Series event was co-hosted by Stern's MBA Office of Student Engagement & Berkley Center for Entrepreneurship and Innovation.