Challenge Possible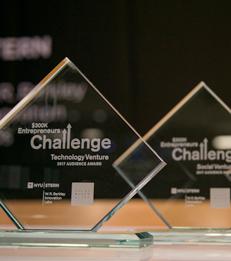 At the conclusion of an eight-month competition, NYU's most promising innovators received a combined $300,000 in start-up cash and valued services at the annual $300K Entrepreneurs Challenge, held by NYU Stern's
W. R. Berkley Innovation Labs
. The five winning teams – composed of students, faculty and alumni from across the University – were chosen after pitching their ideas and enduring Q&A by judges from venture capital, technology and design, and social enterprise sectors.
May 5 marked the culmination of one of the largest and most rigorous venture competitions in the world. Some
186 teams
comprising more than
600 students, faculty and alumni from 16 schools
across NYU's global network competed this year in one of three challenges:
New Venture
,
Social Venture
and
Technology Venture
. The awards presented in each category were:
Winner of the New Venture Competition: for startups in a variety of sectors
The $100,000 Rennert Prize, made possible by a gift from Stern Board of Overseers member Ira Leon Rennert (MBA '56) was split between
Knowu
($25,000
)
and
Resprana
($75,000).
Founded by Stern undergraduate Sophie Frank, Tandon alumna Sukanya Goswami, Stern undergraduate Andrea McDonald, Tandon alumnus Jai Rathore and Stern MBA Micah Steiger, Resprana aims to prevent exposure from dangerous air pollution with a discreet in-nose air filter.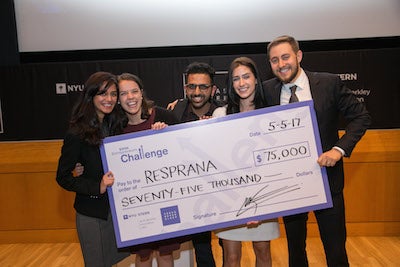 Founded by Stern alumnus Eugene Joseph (BS '11) and Dr. Arun Manoharan, former researcher with the NYU Center for Genomics and Systems Biology, Knowu optimizes the microbiome to improve the health of those with chronic conditions.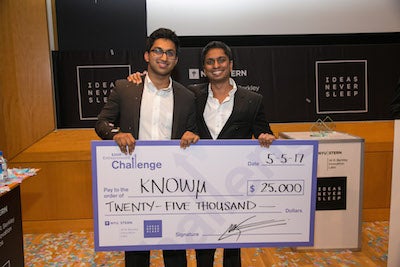 Winner of the Social Venture Competition: for social impact and financial sustainability ventures
The $75,000 Social Venture Prize was split equally between
Hakook
and
Share Meals
.  
Founded by Stern alumnus Josh Dean (BS '16), Gallatin student Michelle Doan, CAS alumna Paula Ho, CAS student Raylen Margono, Stern alumnus Isaac Marshall (BS '16) and Stern alumnus Ian Reagan (BS '16), Hakook provides real-time assistance for the homeless by creating a network of volunteers willing and able to help someone in need.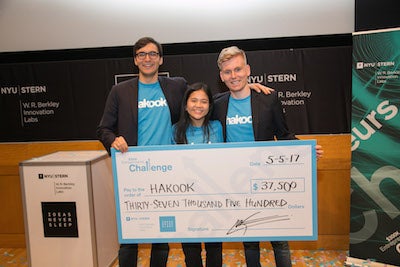 Founded by Steinhardt student Jon Chin and Stern alumnus David Kim (MBA '16), Share Meals reduces food insecurity by redistributing unused campus meal swipes and food surpluses from events.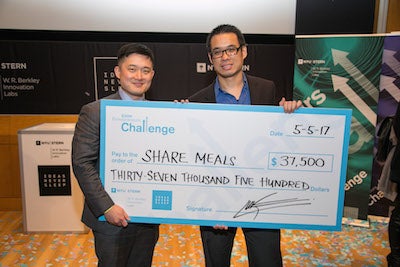 Winner of the Technology Venture Competition: to bring intellectual property developed at NYU to market
The $100,000 Technology Venture Prize was awarded to
Geopipe
. Founded by Thomas Dickerson and Courant alumnus and Professor Christopher Mitchell, Geopipe uses algorithms and machine learning to create highly detailed virtual models of the real world.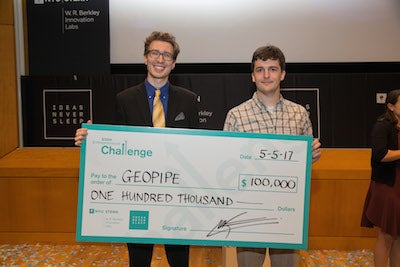 The Technology Venture Competition is sponsored by the NYU Innovation Venture Fund.
"Our finalist teams worked tirelessly with the guidance of our coaches, mentors and evaluators over the past eight months," explained
Luke Williams
, Executive Director of NYU Stern's W. R. Berkley Innovation Labs. "In the end, each has emerged with a new business concept."
"This year's finalists tapped into the incredible talent available across the University," said
Frank Rimalovski
, executive director of the NYU Entrepreneurial Institute and managing director of the NYU Innovation Venture Fund. "A strong multidisciplinary team is essential to startup success. The Entrepreneurs Challenge is a great opportunity for entrepreneurs from across NYU to come together and receive the training, support and mentorship to transform their ideas and inventions into scalable businesses."
"This year, we saw new ventures addressing a number of business, global and societal issues,  from managing chronic health conditions, serving underbanked populations, sourcing newsworthy photos for media organizations, air purification, recycling and connecting working mothers with flexible employment opportunities," said
Cynthia Franklin
, Director of Entrepreneurship at the W. R. Berkley Innovation Labs.
Each finalist team delivered a short pitch followed by a short "Explainer Video" before an audience of NYU students, faculty and alumni, as well as members of the broader NYC startup community, who voted for their favorite teams.  This year,
Resprana
,
Bridge the Gap
and
MediVis
received  the Audience Choice Awards.
In addition, faculty from Stern's Management Communications Department selected three winners for this year's Best Pitch Awards, recognizing
Resprana
,
Hakook
and
Acculis
for their exemplary presentations.  
In recognition of the critical role volunteers play in mentoring, coaching and judging the teams throughout the competition,
Tobey Nelson
received this year's Volunteer-of-the-Year Award, presented by the Innovation Labs' Cynthia Franklin.
The winner of Stern's
Mobile App Contest, "Mission: Appossible
," was also announced:
Run On
.  More than 131 applications were received in the second annual Contest, from which five finalists vied for a chance to have their app fully developed by Messapps, a New York-based design and development studio, or $10,000.  The People's Choice Awards in this year's Mobile App Contest went to
Cluster
.
This Year's Judges
New Venture Competition: William R. Berkley, Brian Cohen, Kathleen DeRose, Robert Fabricant, Spencer Lazar, Laurel Touby.
Social Venture Competition: Marissa Feinberg, Alberto Gomez-Obregon, Conor Grennan, Jeffrey Hollender, Daniel Katz, Greg Van Kirk.
Technology Venture Competition: Kim Armor, David Aronoff, Colin Beirne, John Elton, Alex Iskold.
Find out more about Stern's Entrepreneurs Challenge
Visit the NYU Stern W. R. Berkley Innovation Labs website
Watch the full event here
---