Challenge Possible
NYU Teams Win a Combined $400K in the Stern School's Entrepreneurs Challenge and Mission: Appossible Mobile App Contest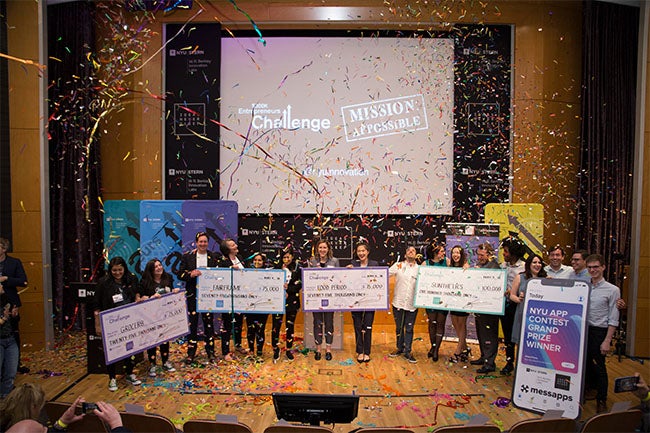 At the conclusion of an eight-month competition, NYU's most promising innovators received a combined $400,000 in startup cash and valued services at the annual $300K Entrepreneurs Challenge and "Mission: Appossible" mobile app contest, held by NYU Stern's
W. R. Berkley Innovation Labs
. The four winning teams were chosen after pitching their ideas and enduring Q&A by judges from venture capital, technology and design, and social enterprise sectors.
May 4 marked the culmination of one of the largest and most rigorous venture competitions in the world. Some
202
teams comprising more than 600 students, faculty and alumni from 17 schools across NYU's global network competed this year in one of three competition tracks:
New Venture
,
Social Venture
and
Technology Venture
. The awards presented in each category were:
Winner of the New Venture Competition: for startups in a variety of sectors
The $100,000 Rennert Prize, made possible by a gift from Stern Board of Overseers member Ira Leon Rennert (MBA '56) was split between
Grocer8
($25,000) and
Food Period
($75,000).
Founded by Stern MBA students Divya Jayachandran and Emily Wallen, 
Grocer8
 is "Yelp for packaged food." The venture addresses the need for a customer discovery platform dedicated to the taste of packaged foods, as well as a data-driven flavor research tool for food companies.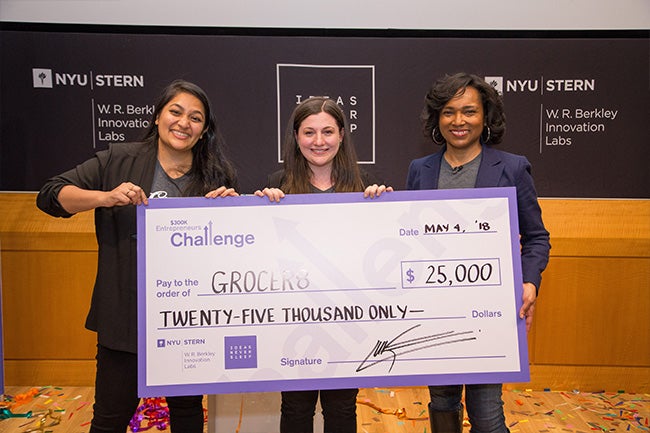 Founded by GSAS student Britt Martin and Jenn Kim,
Food Period
helps women have great periods, naturally. The company designs functional food products, grounded in nutrition protocols and ancient practices, that improve women's menstrual cycles with the simplicity of a subscription-based service.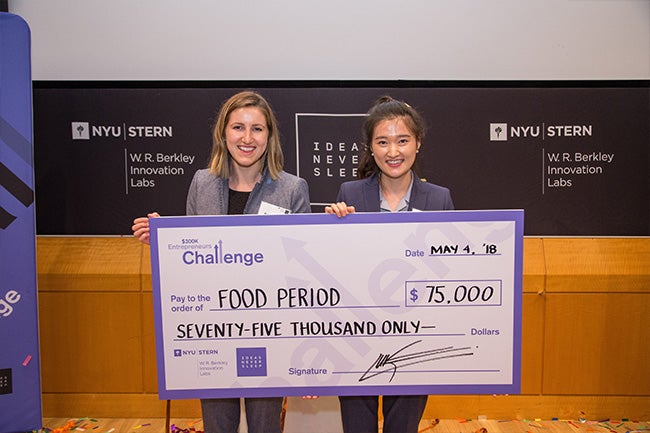 Winner of the Social Venture Competition: for social impact and sustainability ventures
The $75,000 Social Venture Prize was awarded to
FairFrame
.  
Founded by NYU Wagner Professor and student Amy Auton-Smith, Wagner student Paul Becker, Gallatin student Maham Faisal Khan and Tandon student Vishwali Mhasawade,
FairFrame
is an AI-enabled language processing platform that helps managers to make informed decisions about people in the workplace and helps organizations to deliver their diversity, equity and inclusion goals.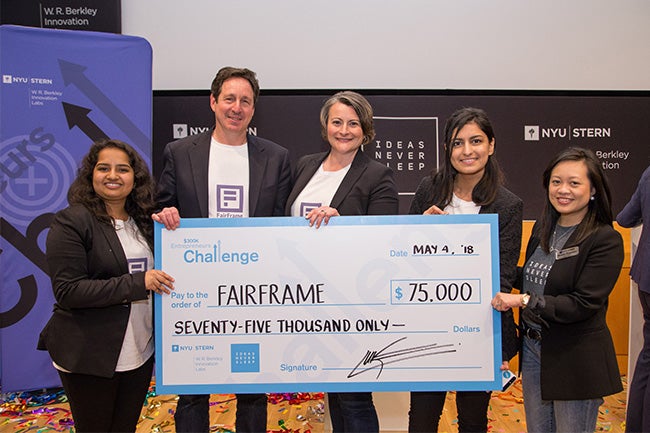 Winner of the Technology Venture Competition: to bring intellectual property developed at NYU to market
The $100,000 Technology Venture Prize, sponsored by the NYU Innovation Venture Fund was awarded to
Sunthetics
.
Founded by Tandon students Daniela Blanco, Kyle Ireland, Myriam Sbeiti and Benjamin Rizkin, Tandon Professor Miguel Modestino and Sophia Haussener,
Sunthetics
drives sustainable change in the fashion industry by providing a solar-powered pathway to manufacture environmentally-friendly nylon, while improving manufacturing cost and efficiency.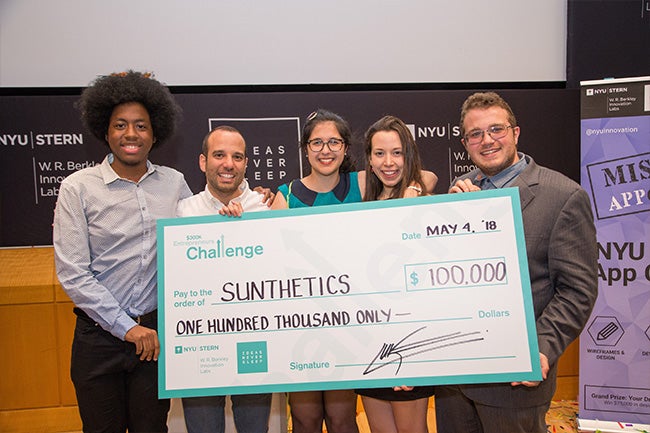 "The $300K Entrepreneurs Challenge provides a launch pad for promising ventures by providing training, support and mentorship," said Cynthia Franklin, director of Entrepreneurship at the W. R. Berkley Innovation Labs. "This year, we also saw a few exciting developments—a disproportionately high number of female founders in the finals as well as an increasing number of teams already demonstrating early market validation with paying customers, letters of intent and successful soft launches."
"This year, we saw new ventures addressing a number of business, global and societal issues,  from connecting consumers to renewable energy sources and providing nutritious food to consumers, to integrating new technologies to improve retail customer experiences and  combating bias in the workplace," Franklin added.
The finalist teams showcased their ventures through brief pitches and explainer videos before an audience of NYU students, faculty and alumni, as well as members of the broader NYC startup community, who voted for their favorite teams. This year,
TaQadam
,
Merciless Motors
and
Grocer8
received the Audience Choice Awards.
In addition, faculty from Stern's Management Communications Department selected three winners for this year's Best Pitch Awards, recognizing
FairFrame
,
Food Period
and
Merciless Motors
for their exemplary presentations.  
In recognition of the critical role volunteers play in mentoring, coaching and judging the teams throughout the competition, Stern alumnus 
Edward Laganis (MBA '14)
received this year's
Mentor of the Year Award
, presented by the Innovation Labs' Cynthia Franklin.
The winner of Stern's
Mobile App Contest, "Mission: Appossible,"
was also announced:
HealthHuddle
.  More than 200 entries were received in the third annual Contest, from which five finalists vied for a chance to have their app fully developed by Messapps, a New York-based design and development studio, a $75K value, plus legal services and web hosting.  The People's Choice Award in this year's Mobile App Contest went to
Dalia
.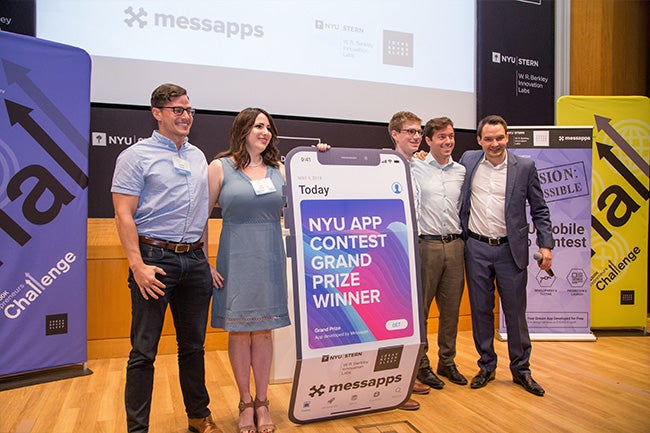 This Year's Judges
New Venture Competition:
Lindsay Avagliano, William R. Berkley, Susan Danziger, Robert Fabricant, Alicia Syrett
Social Venture Competition:
Marissa Feinberg, Alberto Gomez-Obregon, Conor Grennan, Daniel Katz, Greg Van Kirk
Technology Venture Competition:
Kim Armor, Colin Beirne, John Elton, Alex Iskold
Find out more about Stern's Entrepreneurs Challenge
Find out more about Mission: Appossible
Visit the NYU Stern W. R. Berkley Innovation Labs website
Learn more about the NYU Entrepreneurial Institute
---