Stern Stories
Google's Eric Schmidt Discusses Today's Technology Race with CNBC's Maria Bartiromo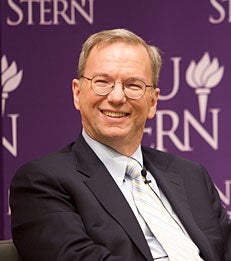 Life is about more than making money. It's about having an impact and doing something that you care about.
More than 400 students, faculty and administrators from across NYU gathered to hear Eric Schmidt, executive chairman of Google, Inc., interviewed by NYU Trustee and alumna Maria Bartiromo (WSC '89), anchor at CNBC, in NYU Stern's Paulson Auditorium.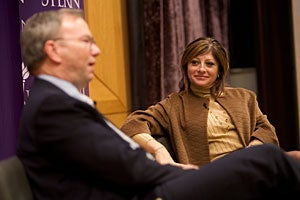 Schmidt answered questions on the landscape of today's technology race, how technology is evolving and Google's secrets of success. He also touched on issues related to privacy and patents, Google's IPO, China's struggles with censorship, and what the next Facebook will be.
Today's biggest Internet web platforms, Schmidt explained, include Amazon, the network platform; Facebook, the people platform; Apple, the first platform to combine design and function in devices; and Google, the information platform. He described how all four are both hugely competitive and collaborative, and are growing at incredible rates.
Looking ahead, Schmidt anticipates that diagnostics for medical issues via mobile devices will be a bright spot. "It could lead to a revolution on how we treat people," he explained.
Google's 80/20 model, which allows employees to spend 80% of their time on core projects and roughly 20% of their time on "innovation" activities, is central to the company's success, Schmidt argued, pointing to several successful innovations that came out of 20% time. A key to success, he explained, is hiring employees who will naturally do what they should without being told.
Reflecting on his career path, Schmidt argued that most successes are the result of teamwork. His advice: Surround yourself with co-workers who are fun, driven, impactful and smarter than you. "Together," he explained, "you'll sink or swim."
"Life is about more than making money," he cautioned. "It's about having an impact and doing something that you care about."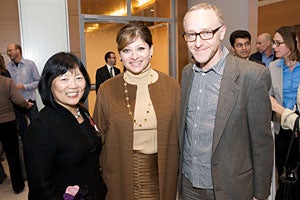 From left to right: Diane Yu, chief of staff and deputy to the president, NYU; Maria Bartiromo, trustee and alumna, NYU, and anchor, CNBC; and Adam Brandenburger, vice dean for graduate education, NYU Stern