Stern Stories
NYU Stern, LSE and HEC Paris Mark 10-Year Anniversary of TRIUM Global Executive MBA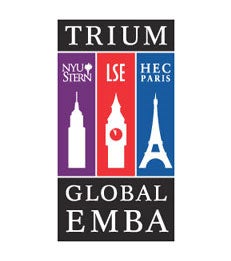 NYU Stern, LSE and HEC Paris Mark 10-Year Anniversary of TRIUM Global Executive MBA with Announcement to Expand Enrollment
They inspire us with their accomplishments and create value for their companies and communities.
NYU Stern, LSE and HEC Paris Mark 10-Year Anniversary of TRIUM Global Executive MBA with Announcement to Expand Enrollment
TRIUM Alumni Gather in Paris to Celebrate TRIUM 10 Anniversary with Conference and Social Events


PARIS & NEW YORK & LONDON - July 1, 2011 - Marking the 10-year anniversary of the TRIUM Global Executive MBA Program, the alliance of three world-renowned universities, New York University Stern School of Business (NYU Stern), London School of Economics and Political Science (LSE), and HEC Paris School of Management (HEC Paris), announced plans to expand the program, adding a second cohort starting in September 2012
TRIUM, the first global Executive MBA program for senior executives that blends the complementary strengths of three premier universities and five international learning locations, welcomed its inaugural class in September 2001. In the past 10 years, the program has graduated 500 senior executives from more than 70 countries, who work in corporations, family businesses, or as entrepreneurs, as well as in government, law and not-for-profit sectors.
More than half of these alumni and student community are gathering in Paris at the Chambre de Commerce et d'Industrie for three days (July 1-3) to celebrate the program's 10-year anniversary with keynote speakers Henri Proglio, CEO of EDF, and John Mack, Chairman of Morgan Stanley; panel discussions and social events at a conference entitled TRIUM 10. Leading faculty from all three schools, Dean Bernard Ramanantsoa of HEC Paris; Dean
Peter Henry
of NYU Stern; and Professor Saul Estrin, Head of the Department of Management at LSE, are participating in the commemorative events.
"We are pleased to announce the expansion of the TRIUM Program at this anniversary celebration," said Dean Bernard Ramanantsoa of HEC Paris. "The value of the TRIUM program in fostering both leadership and entrepreneurship as well as a deeper understanding of global issues has been proven by the careers and lives of our alumni in the past 10 years. We set about creating a program without equivalent in modern executive education. We are now expanding this program because both the need and the value of having a global perspective have increased in the intervening decade."
Unlike other EMBA programs, TRIUM integrates international economic, political and social policy into the business curriculum through the participation of LSE. LSE is known for its expertise in these areas, which are often neglected in traditional business curricula yet are widely accepted as critical to successful global business. Top-ranked faculty teach at their home campuses, ensuring an educational experience that blends local business expertise into a broad international perspective.
"The value of integrating economic, political and social policy in the context of globalization, which draws on LSE's particular knowledge and expertise, sets the TRIUM Program and its alumni apart," said Saul Estrin, Head of the Department of Management, LSE. "TRIUM graduates grasp the increasingly critical need to think across borders and boundaries, whether national or personal."
While the essential philosophy and framework underpinning TRIUM remains, the program has adapted to changes in the world environment to remain highly relevant to senior executives. Participants attend six intensive and rigorous educational modules, hosted at each of the three alliance schools, as well as two additional, rotating modules. With the addition of a second cohort, the allocation of time among modules will shift to allow students to spend more time in emerging markets, as these rotating modules are currently held in Chennai, India and Shanghai, China. TRIUM has also evolved its capstone project into a global business incubator tha t allows students to work together on innovative strategies and projects, several of which have resulted in new businesses.
Another addition to the curriculum is an expanded focus on leadership and professional development that challenges senior executives to define their vision, articulate a strategy and develop an action plan, linking real-world issues to their personal roadmaps for more effective leadership.
"I am proud of our TRIUM alumni, who are alumni of all three of our schools, and who embody the qualities of leadership and innovation that are all hallmarks of the program," said Peter Henry, Dean of New York University Stern School of Business. "They inspire us with their accomplishments and create value for their companies and communities."
For more information on TRIUM, please call +33 1 39 67 70 94 in Europe, +212 998 0442 in the U.S., or visit
www.triumemba.org
New York University Stern School of Business
New York University Stern School of Business is a world leader in business education. Stern's New York City location promotes close relationships with the international business community, offering students unique educational and professional opportunities. NYU Stern has graduated many alumni who are prominent among the ranks of the world's top CEOs.
London School of Economics and Political Science
LSE is the world's leading social science institution. Based in the heart of London, its 9,000 undergraduate and postgraduate students come from more than 145 countries worldwide to study in one of the 23 departments or 18 research institutes. The School is one of the UK's top three research universities, and alumni include 35 past or present heads of state. A total of 16 Nobel laureates, 31 current UK MPs, and 42 UK Lords have either studied or taught at LSE.
HEC Paris
Created in 1881, HEC Paris is Europe's leading business school and recognized world leader in Executive Education, offering a complementary range of highly selective graduate, post-graduate and executive development programs. The school enjoys unparalleled links with the French and international business communities and boasts a powerful Alumni Association with more than 44,000 members and branches in over 50 countries. Its full-time faculty of 109 professors serves a student body representing more than 95 nationalities on a purpose-built wooded campus outside central Paris.
Contacts
NYU Stern
Joanne Hvala, 212-998-0995
jhvala@stern.nyu.edu
or
Jessica Neville, 514-775-7021
jneville@stern.nyu.edu
or
LSE
James Browne, 44-20-7955-7582
j.browne@lse.ac.uk
or
HEC Paris
Delphine Wharmby, 33-1-39-67-97-01
wharmby@hec.fr