Craft Possible
Five MBAs worked with the NYU Stern Center for Business and Human Rights to create a business plan focused on sustainable employment and profit for private Kenyan social enterprise Artisan.Fashion.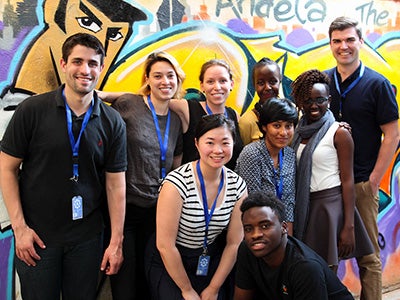 How can a company stay true to its social mission and make a meaningful impact while also generating profit? 
Through a Stern Signature Project, five full-time Stern MBAs – Sarada Anne, Sara Bigelow, Patrick Carusone, Matthew Rogowski, and Nancy Van Way – helped answer that very question for
Artisan.Fashion
, a privately held social enterprise in Nairobi, Kenya that seeks to connect local artisans with the global fashion value chain. Partnering with the NYU Stern
Center for Business and Human Rights
, the students developed recommendations with Artisan.Fashion to find solutions around company identity, customer acquisition and cash flow, governance and management.
"One of the first things we did was help them develop their purpose, vision and mission statements to help them distill who they are, what they do and what the next hurdle is," Nancy said. "What they came up with was helpful for them, and, for us, it helped us realize exactly what they were working toward."
To launch the project, the students traveled to Nairobi with
April Gu
, an associate director with the Center, and
Auret van Heerden
, a senior advisor to the Center, to better understand the company's current operational challenges and opportunities as well as the impact it had on the livelihood and culture of its surrounding communities. The brand originally launched as a non-profit project associated with the United Nations, where its social mission of providing sustainable employment to local artisans attracted top luxury brands including Stella McCartney and Vivienne Westwood. In 2015, the brand partnered with local Nairobi investors to privatize the company but was facing transitional challenges.
"Artisan.Fashion wanted to ensure it kept the social impact mission part of the company, which is centered on employment, training and providing a living wage to employees," Sara recalled. "This mission is critical to their brand, but it can be difficult to balance these priorities when you're trying to make a for-profit company successful and competitive."
Through the Center's
Executive in Residence Series
, the students had an opportunity to meet with corporate social responsibility executives at Kate Spade to get information on how the global lifestyle brand has been able to support similar organizations. Following those conversations along with insight from the Center's advisors, the students crafted a long-term recommendation that Artisan.Fashion evolve to a hybrid for-profit/non-profit business model. The proposed model would allow the brand to generate regular revenue while also securing monetary grants to continue to increase employment in the area and support local artisans. Additionally, the students devised a business plan that Artisan.Fashion can leverage when presenting to potential new clients and applying for funding that supports the the brand's social mission.  
"Through exposure to research, coursework, and opportunities like the the experiential learning project in Kenya, students experience firsthand how profit and principle can co-exist, making meaningful human rights progress possible," said Professor
Michael Posner
, Director of the Center.   
Throughout the semester, the students were able to put many of the key learnings from their coursework into practice to solve business challenges in real time.
"I learn the best by doing," said Patrick, who also had an opportunity to participate in a Stern experiential learning project in Ethiopia. "Having these hands-on experiences helps me dive in and build actual skills I can use on future projects."  
"This project was a really great culmination of two years of business school; everything I learned and had the opportunity to experience at Stern played a role in this project," Matthew said. "To be able to help some really incredible people in Kenya made it that much more impactful."
Matthew said this opportunity also crystallized a key learning that has been reiterated throughout his time at Stern. "Thinking back to my first day here when Dean
Peter Henry
spoke about doing well by doing good, this is what he meant." 
Learn more about this project in the below video: 
---