Highlight Possible
NYU Stern's MS in Business Analytics Program Marks Five-Year Anniversary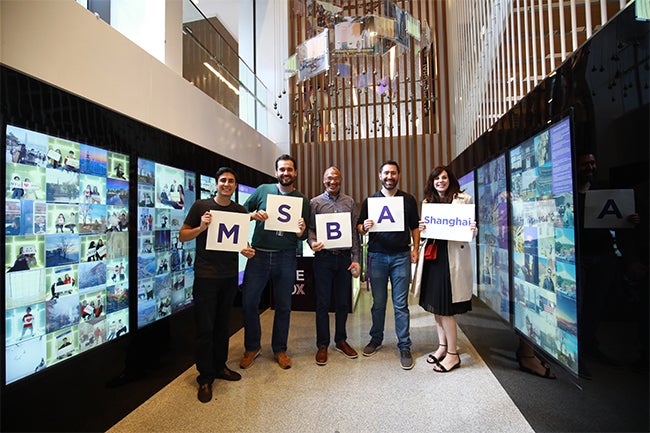 Current MSBA students in the Class of 2019 onsite in NYU Shanghai for module 3 of their program
NYU Stern's
Master's in Business Analytics (MSBA) program
, the first of its kind at a top business school, is marking its 5th year of the program.  Unlike other analytics programs, Stern's MSBA is designed exclusively for experienced professionals across industry sectors to enhance their use of data to make strategic business decisions that lead to actionable results. The one-year, part-time program is divided into five on-site class modules in New York, Abu Dhabi and Shanghai, leveraging NYU's three degree-granting campuses and global network, and concludes with an applied capstone project.
According to
Eitan Zemel
, vice dean of Executive Programs, "When we first conceived of the program back in 2010, an MS in business analytics was ahead of its time. Big data technologies were just beginning to emerge.  We anticipated the convergence of technology and business, and saw how data could be a strategic business asset. Today, data analytics has become an integral part of the decision-making that drives every business."
"The proliferation of data available to firms continues to grow, driven by an increasing number of customer touch points in the offline and online worlds," said Professor
Anindya Ghose
, academic director of the MSBA program. "Understanding the skills and machinery required to harness what the data tells us and the ability to convey a compelling story based on those extractable insights is critical for business success in both the B2B and B2C worlds today."
At the end of October, the current MSBA Class of 2019 traveled to NYU Shanghai to attend module 3 of their program.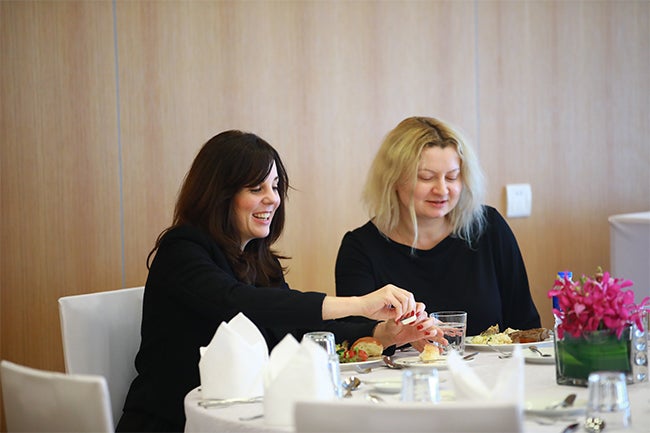 MSBA program student Stephanie Grosse Kamphake (left) with a classmate
"What impressed me the most from the NYU Shanghai module is the maturity of digital commerce in Shanghai, and the breadth and depth of data it creates," said current MSBA student Stephanie Grosse Kamphake, head of business analytics, Hunkemöller International B.V., a lingerie retailer headquartered in the Netherlands. In reflecting on an industry discussion about Didi, a company that is leveraging analytics and AI to transform the transportation industry in China, Stephanie noted, "It makes me wonder where this amount of analytical power could take the retail industry in Europe if we would see data and analytics no longer as a nice to have, but a need to have to stay competitive in the future."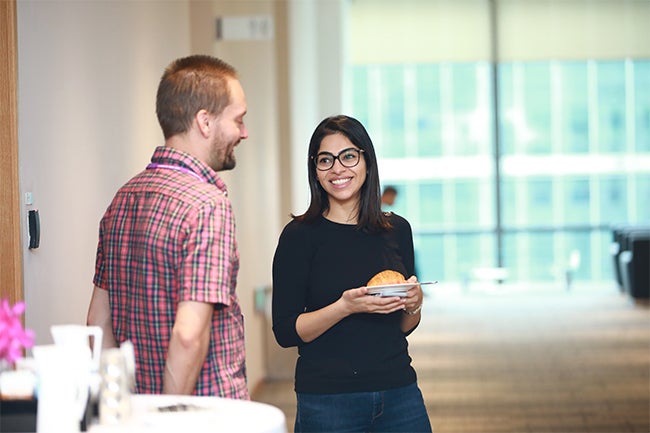 MSBA program student Shivika Mehta (right) with a classmate
Current student Shivika Mehta, vice president, operational risk, Citibank North America, says that one of the aspects of the MSBA program that appeals to her is the program's focus on predictive and prescriptive analytics.  During module 3, she and a team of her classmates delved deeper into their applied Capstone Project, a hallmark of the program: "Historically women borrowers have been observed to be financially more responsible and have worked towards uplifting their families and societies, yet the segment is relatively underbanked. Our Capstone group is working to improve access to credit as well as providing recommendations for a financial product for women led SMEs (Small & Medium Enterprises) in Latin America. The project aims to leverage advanced analytics to generate positive social impact alongside creating economic value."
MSBA alumni Jack Hanlon ('14) and John Callery ('14), both from the inaugural MSBA cohort, underscore the immediate relevance of the degree program and the supportive network of seasoned professionals that the program attracts.
"Stern's MSBA has enabled me to connect with unbelievable talents both in the form of professors and my fellow students, all of whom have different expertise," explains Hanlon, vice president of analytics at Jet.com.
"I use what I learned at Stern every day, and I wouldn't be successful without it," says Callery, managing director and global head of workforce strategy at BNY Mellon. "Whether it's presenting data to the CEO and CFO, applying data mining techniques and building complex models to predict successful hires and prevent attrition, or working on data visualizations that tell stories in a better way, the skills I learned in the MSBA program are behind everything that I do."
Fast Facts about NYU Stern's
MS in Business Analytics Program
First top business school to introduce a part-time analytics program at the convergence of technology and business
Exclusively designed for experienced professionals, including at the VP or C-suite level, with an average of 12 years work experience
Program demand has yielded full cohorts of approximately 60-70 students annually since launch
Nearly 50% of MSBA students/alumni have been promoted or pivoted careers since enrolling in the program, according to data available on LinkedIn
More than 40% of the MSBA Class of 2019 is international by reported nationality
To stay cutting edge, the program has continuously integrated hot topics into the curriculum from recommender systems and big data, to artificial intelligence
The Class of 2020 will be the first cohort to attend one of their five program modules in a new location, NYU Abu Dhabi, deepening the global perspective of the program and tapping another location in NYU's global network.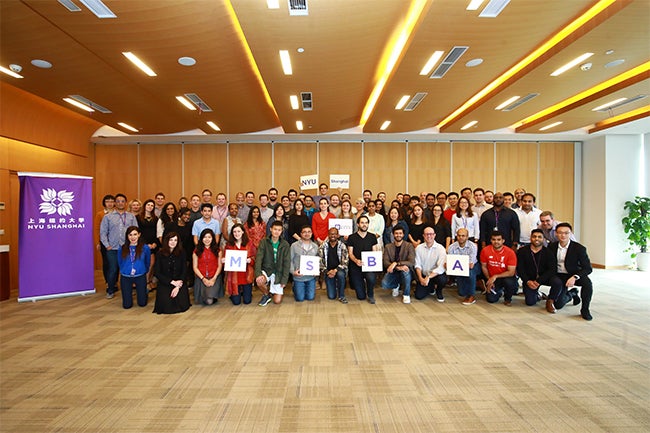 The MSBA program Class of 2019 onsite in NYU Shanghai for module 3 of their program
---