Stern Stories
Lead Possible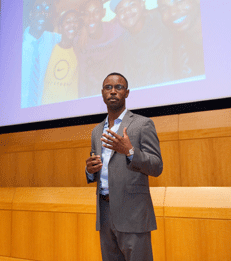 MBA/MPA student Corey Blay describes his journey of turning a challenge into an opportunity, and becoming a leader in the social sector.
I'm still on that journey, but once I graduate I feel I will have the right tools to lead on issues like educational equity and community development.
MBA/MPA student Corey Blay describes his journey of turning a challenge into an opportunity, and becoming a leader in the social sector.
Corey Blay, a second-year, MBA/MPA student, has always believed in the power of education. As an undergraduate at the University of Chicago, he mentored disadvantaged youth and coordinated a program that provided college classes to high school students from around the world. He explains, "Those divergent experiences opened my eyes to the effects of inequity on local communities and student achievement, and informed my decision to pursue a career in education."
Corey became a middle school history teacher and school administrator at an independent private school in New York City. However, he explains, "throughout my six years there, I witnessed numerous instances when boys of color struggled academically, lost themselves socially and in some cases left the school. I became frustrated by the pervasiveness of that pattern, especially since I had played a lead role in designing the policies and programs intended to preclude that from happening." Determined to solve this problem, Corey plans to create a middle school in Harlem, Brotherhood Prep, to prepare boys of color for success in elite private high schools by offering them similar learning environments to the ones they would enter. "I realized I had to start a business and become an educational entrepreneur," Corey explained. To do that, he recognized that he had to strengthen his entrepreneurial acumen to successfully get the school off the ground.
"I was drawn to two of NYU's guiding principles: 'A private university in the public service' and 'in and of the city,' he said. "Those ideas resonate with me in a deeply personal way. I shared Stern's values, was heartened by its commitment to diversity and wanted to learn in a collaborative community." Corey experienced these values in action at
Launch
, a two-week orientation for new MBA students. "Launch demonstrated to me that Stern is serious about creating diverse leaders who are self aware, innovative and collaborative. It was clear that Launch was designed not only to orient us to the community, but also to inspire us to be change makers. That was all I needed to feel confident that Stern was the perfect business school for my aspirations." He adds, "I think the most transformative aspect Launch for me was the focus on leveraging our personal stories into a professional path. Dean
Peter Henry
's story of how he became a professor and why he chose to become the dean at Stern was incredibly inspiring."
Corey's current entrepreneurship courses, such as Prof.
Glenn Okun
's "Start-Up Business Practicum" and "Managing Growing Companies," are providing the foundation to see Brotherhood Prep through, and his summer experience developing a staff program at Teach for America strengthened his leadership skills. However, it is his experience in the Launch Projects Course that he says changed his beliefs about what's possible in a business school class. Investigating the role of business in solving social problems, the course is led by Vice Dean and Prof.
Adam Brandenburger
who insisted that the students search for questions that were both scholastically and personally meaningful. Corey notes, "Towards the end of the semester, we started calling ourselves 'the learning community,' because that's exactly what we were. The Launch Projects Course helped me believe that accomplishing my dream was possible. My classmates were an incredible support system, and since then several of them have become irreplaceable members of my leadership team."
Though still early in his journey, it's clear that Corey has been transformed by his time at NYU. "For a long time, I resisted the idea that I had any leadership potential, even as I was putting myself in positions of leadership. I've known for a long time that I wouldn't feel comfortable seeing myself as a leader until I received formal training. Going to grad school and obtaining an MBA and an MPA has always been about owning the fact that I can be a leader in the social sector. I'm still on that journey, but once I graduate I feel I will have the right tools to lead on issues like educational equity and community development," he says. "And I'm confident Brotherhood Prep will be an even greater success because of the education I'm receiving at NYU."